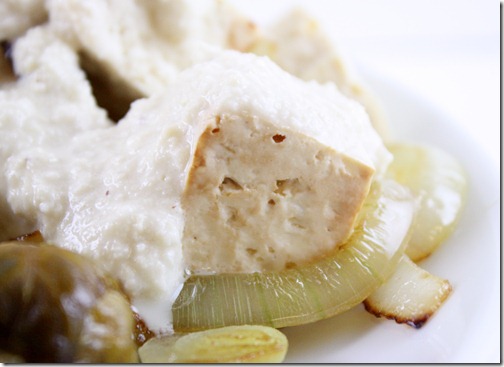 If you haven't picked up this March's Rachael Ray magazine yet, don't bother because I'm not in it you might not know that there's a 4-page spread on "meatless mains." Better yet, these aren't Sandra Lee pop-a-tofurky-in-the-oven-and-call-it-dinner recipes; no, these are actually good recipes made with real food.
The first one that caught my eye was their "cashew cream sauce" which they put over tofu. I followed the recipe for the most part but changed it a bit and upped the garlic(I clearly wasn't going anywhere that night).
Garlicky Cashew Cream Sauce(adapted from this recipe)
Ingredients:
1 cup cashews, soaked and drained

1/2 cup + 2 Tablespoons water

2 teaspoons lemon juice

2 Tablespoons nutritional yeast

2 cloves garlic

1/4 teaspoon salt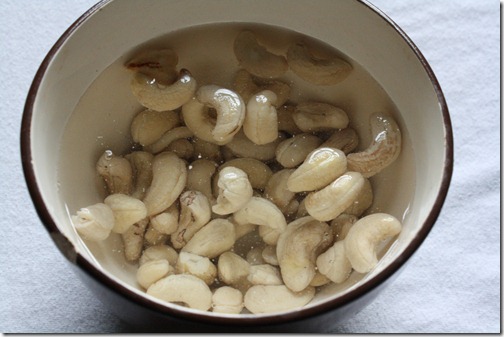 Soak the cashews for 3-4 hours until they're soft. Drain the cashews reserving some of the water for the sauce.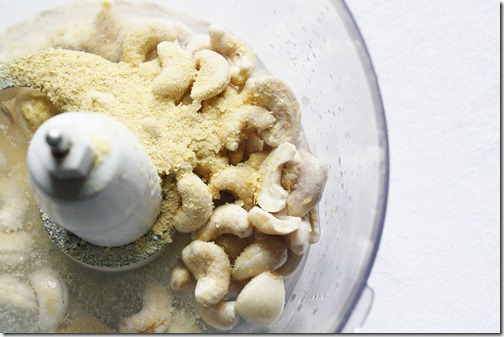 Add all the ingredients together in a food processor and blend until smooth and creamy.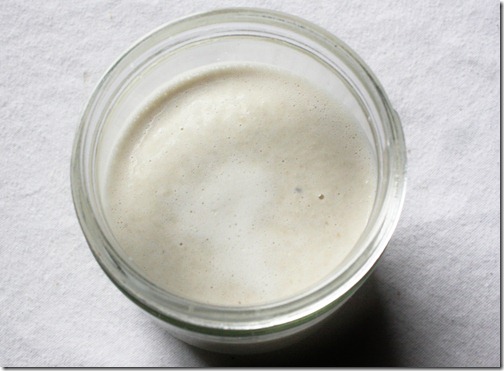 Use immediately or store in an airtight container in the refrigerator for a few days.
I liked the flavor of the sauce, which was deep, rich, and strong. I served mine with baked tofu and caramelized onions; next time I would try this with something like pasta to soak up the sauce better. Oh, and I would probably make sure there are a few tins of Altoids lying around to cover up the garlic breath.