I have finally tried Bakerella's cake balls and I have been converted.
For Christmas, I thought I'd try to make a new recipe to mimic what was always a family favorite. Unfortunately, that didn't turn out so well, and I couldn't bear to bring a dessert that was so clearly unlike the original.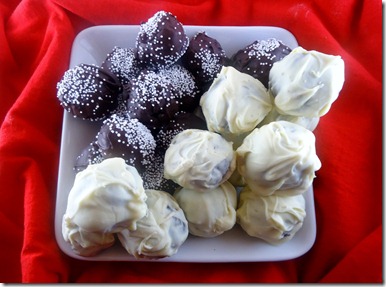 After thinking about how to salvage the dessert, I decided to try cake balls. I have seen these on almost every blog and they always get good reviewed. In the center is crumbled up baked goods mixed with frosting, and on the outside is chocolate melted down and hardened.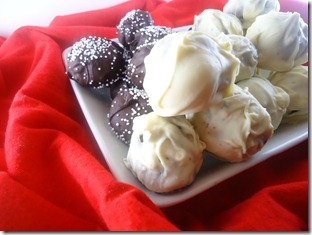 I had made cookies which were moist enough on their own to hold together without any frosting. All I had to do was mush them all into a bowl, melt chocolate, and roll the ball around in the liquid chocolate letting them cool later in a refrigerator. I did half dark chocolate and half white chocolate.
You never would have known these weren't what I intended to make from the start; they were that good. I'm kind of disappointed I didn't get to make frosting(because I love buttercream) but I'll live, and probably with a smaller waist, too.