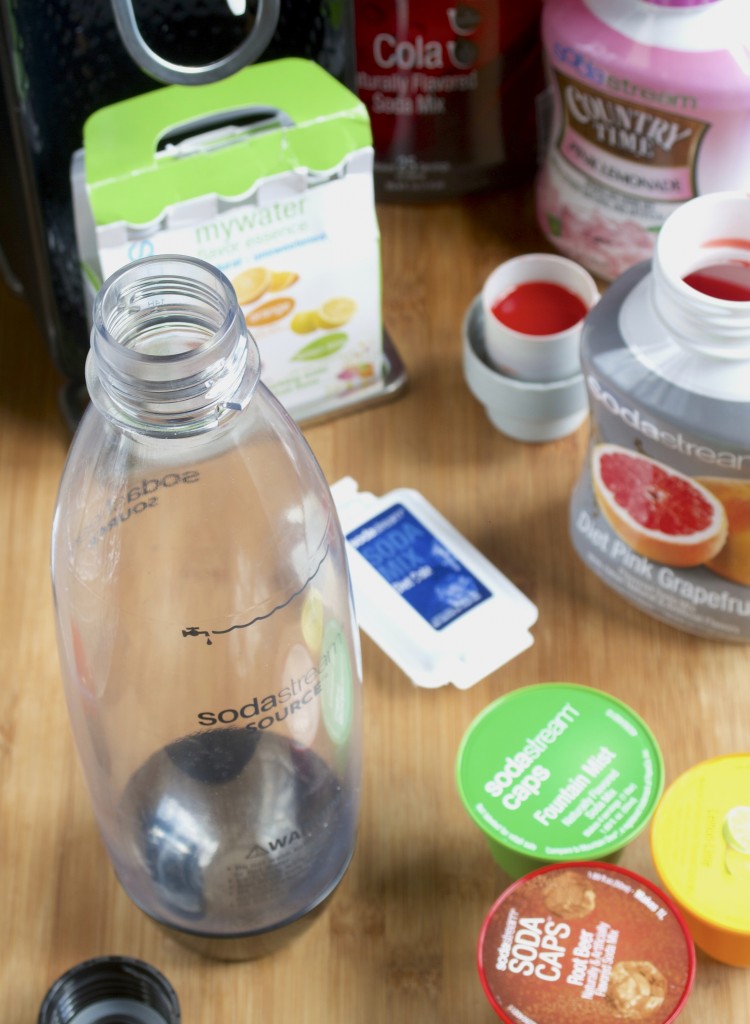 Sometimes when you try something new it takes a while to warm up to it. Other times it's love at first sight. This was closer to love at first sip.
I've been to parties where people have SodaStreams but I've never owned one until SodaStream sent me their Source machine along with plenty of flavorings to review. I only drink soda usually when it's with a cocktail but I'll drink seltzer every day. If it wasn't for seltzer I probably wouldn't be half as hydrated.
By far my favorite advantage of using a SodaStream to make drinks is adjusting sweetness and flavor. I've always found most sodas too sweet, or sometimes you'll get a pack of flavored seltzer and it tastes totally plain. You never have that problem when you're making your own drink. They give you suggested portions of mix for each liter but I've been using 2/3rds of the suggested amount and it's just the right sweetness.
For that reason I didn't really like the caps or samplers that are designed to be just for a 1 Liter bottle but I could understand those being convenient for people who want to use just that amount or plan on using it on the go.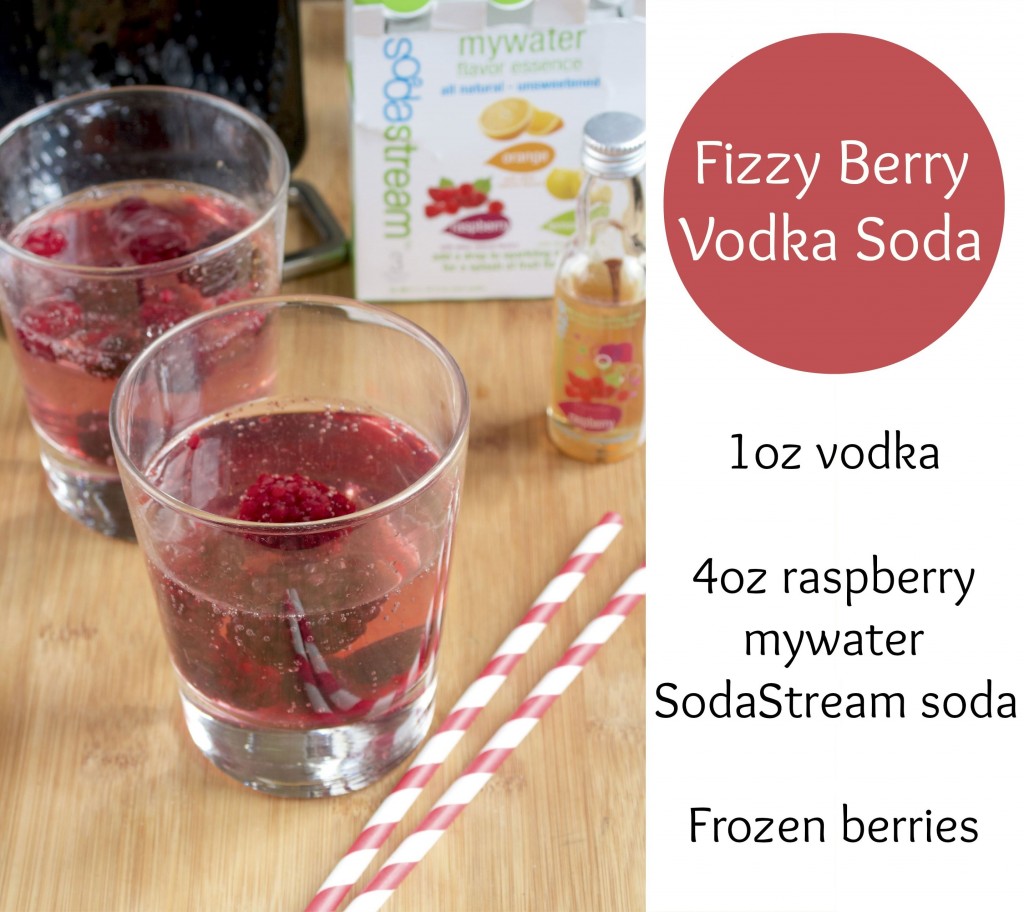 The MyWaters have been great for adding natural flavor without calories to seltzer. I could see myself going through a LOT of those tiny bottles. I've also been using them to make really simple vodka sodas that pack a lot of flavor. One of my favorite tricks is using frozen berries instead of ice cubes in clear drinks for extra flavor and extra color.
Berry Vodka Soda
Prep time: 2 minutes
Cook time: 0 minutes
Ingredients(Makes 1 drink):
Method:
Mix the club soda and vodka delicately in a cocktail shaker.

Pour over a handful of frozen berries in a short glass.
Of course there's also a TON of flavors of soda for the SodaStream. I admit I've started drinking more of it since I got the machine. The diet orange mango and diet pink grapefruit are too good to pass up after dinner.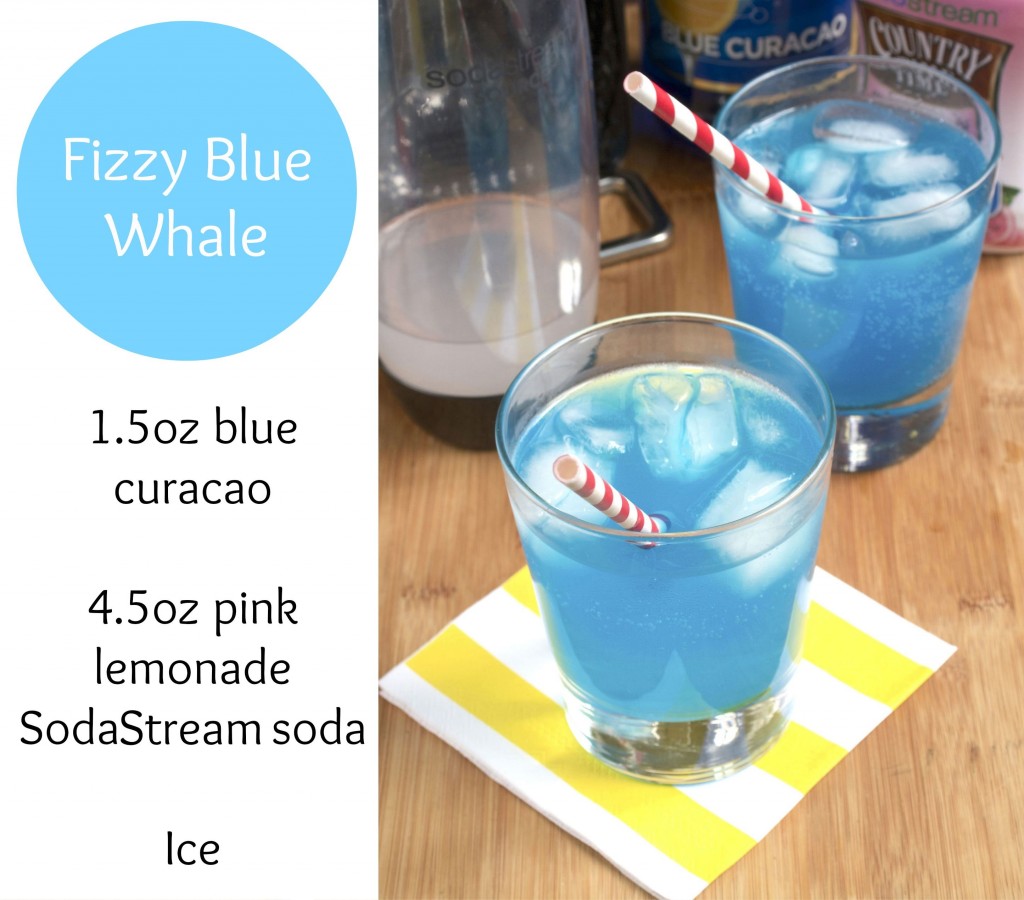 If you're trying to have less sugar or less chemical sweeteners I still think this is a good product. Like I mentioned, I'll usually use 2/3rds the amount of mix suggested to cut the sweetness and sugar. It's especially useful when mixing cocktails with sweet liqueurs like this version of a blue whale.
Fizzy Blue Whale
Prep time: 2 minutes
Cook time: 0 minutes
Ingredients(Makes 1 drink):
Method:
Gently shake all of the ingredients together in a cocktail shaker.

Pour into old-fashioned glasses. Garnish with a fresh lemon wedge.
Of course another huge advantage of using a SodaStream has been reducing bottles and cans and saving money. I never have 1/2 a flat bottle of Coke or recycling building up. It's also very easy to clean which I definitely appreciate.

Have you ever played around with a SodaStream before? What kind of fizzy cocktail recipes would you want to try?