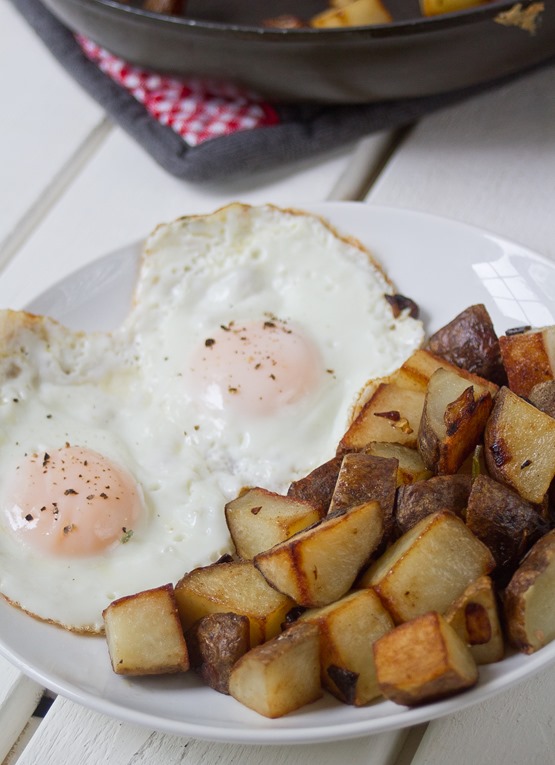 Well cooked home fries are one of my favorite foods. I always look for them on a menu when I'm out to eat(clearly I only choose very classy places that would serve home fries at 6pm); they beat plain old french fries any day.
Years of cooking these spuds have taught me that home fries are all about two things: Seasoning and cooking time. Salt, herbs, and onions all make for a really taste treat once the flavors are absorbed into the home fries. You also can't rush perfection. The best way to get a golden, crispy outside and a soft starchy inside is to cook these low and slow, giving each side a chance to sizzle on the bottom of the pan.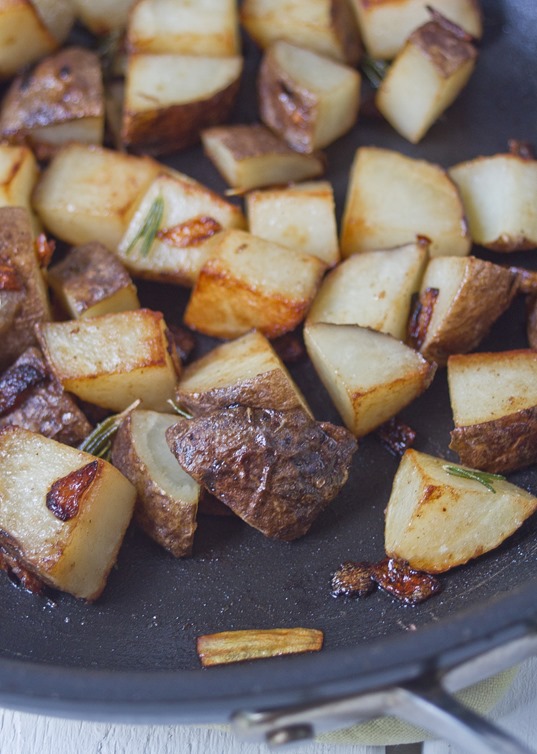 You'll definitely want to double or even triple the recipe if you're cooking for a crowd because these'll fly off the plate. Season them to taste as always; you can add any number of herbs and spices to make them spicy, garlicky, or even slightly sweet.
How To Make Perfect Home Fries
Prep time:  10 minutes
Cook time: 15 minutes
Ingredients:
2 par-cooked medium Russet potatoes*
2 Tablespoons chopped onion
3 Tablespoons olive oil, divided
1/2 teaspoon salt
Couple sprigs of rosemary
1/4 teaspoon pepper
*I usually bake mine for 40 minutes, let them cool, and then keep them in the refrigerator to have on hand whenever I want to make these. You can also par-cook them in the microwave or by boiling them as long as they're firm enough to slice when done.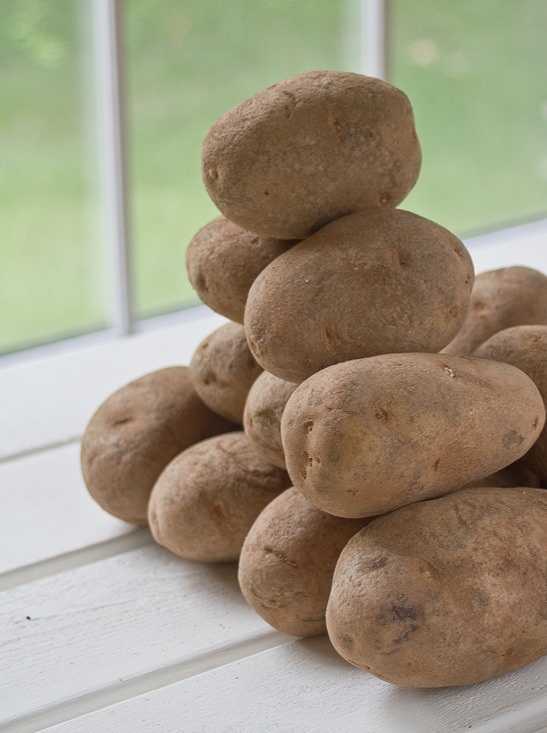 Method:
Heat 1 Tablespoon of oil in a frying pan. Add in the onions and sauté them until they become translucent.
Dice the potatoes into small bites, about 1/2-inch squares. Leave the skins on for a rustic look and texture.
Add the potatoes into the pan with the onions along with the remaining 2 Tablespoons of oil and salt.
Cook on medium heat, tossing the pan every couple of minutes to flip the potatoes. Cook for 10-15 minutes until most of the sides look browned and crispy and the oil has been soaked up.
Finish by seasoning with pepper.
Serve hot.