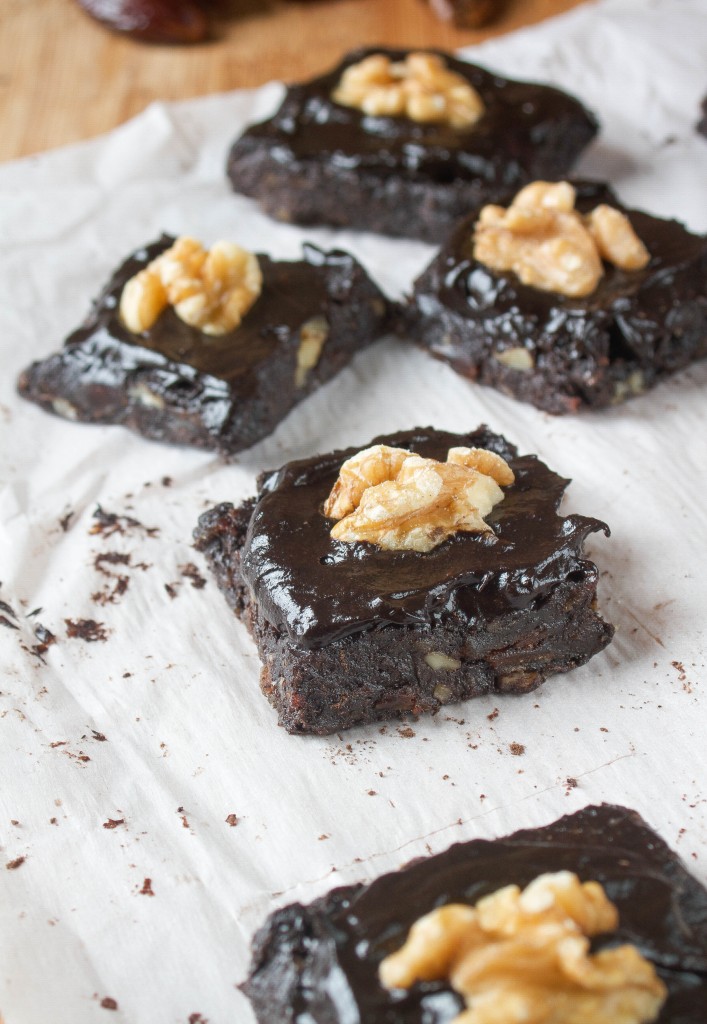 As much as I don't like the cold, Winter and Fall are some of the best baking months because there's sometimes nothing to do but stay in and sit next to the heater. Now that Spring's here and the heat waves, too, no-bake recipes are suddenly ten times more appealing. 
I made these "brownies" over the weekend for a sweets fix that wouldn't involve sifting flours and melting chocolate. It's pretty much the same recipe I made 3 years ago with an extra avocado frosting on top. Avocados and dates definitely don't sound like dessert ingredients, but you'd be surprised how rich and chocolaty these come out.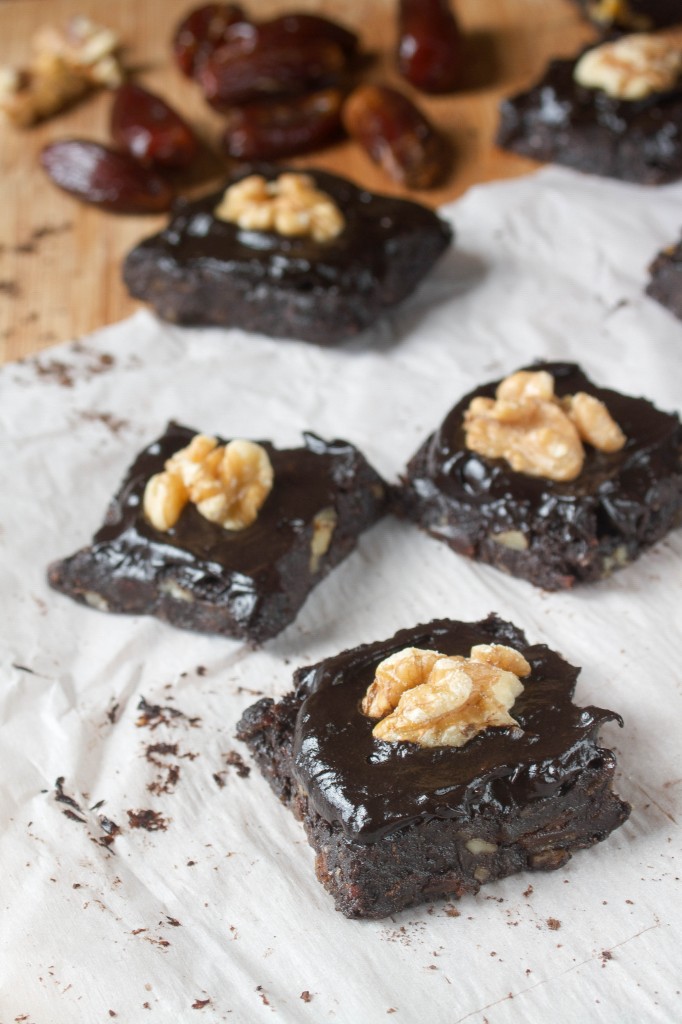 These are easier to stash and store without the frosting, which does go bad about as quickly as guacamole, so if you're planning on waiting a while to eat these wait until the last minute to make the frosting. It'll taste better if you do.   
Raw Brownies With Avocado Frosting
Prep time: 15 minutes
Cook time: 0 minutes
Ingredients(Makes 8-12 brownies):
2 cups pitted dates

1 cup walnuts

1/4 cup cocoa powder

1 1/2 Tablespoons coconut butter(optional but recommended)

1-2 Tablespoons water

1/2 a ripe avocado
2 Tablespoons agave or honey
Method:
Blend the dates in a food processor until they are pulverized and start to stick together. The dates don't have to be fresh but make sure you're not using dry and stale ones or they won't stick.

Add the walnuts and coconut butter and continue blending until the dough starts to stick to itself. Add the water as necessary if your ingredients are too dry to clump.

Lastly add 3 Tablespoons of cocoa powder and continue blending until it's mixed in.

Dump the processed ingredients onto a piece of parchment paper. With your hands, clump them together into a square or rectangle.

Freeze the dough for 5-10 minutes until it's firm and cut it into even sized squares. Store in the refrigerator for freshness.

To make the "frosting", mash the avocado into a smooth puree. Add the agave and remaining cocoa powder and mix thoroughly.
Spread an even amount on top of each brownie square. Garnish with any extra walnuts.