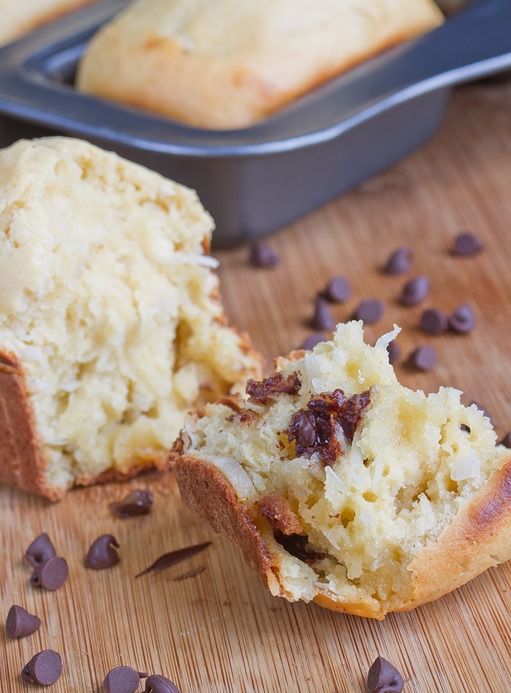 I hate the word low-fat, because instantly it conjures up thoughts of dried pastries and a total lack of flavor. That's nothing anything like these loaves are, soft and bursting with a sweet flavor right out of the oven.
Instead of butter or oil, these are made with two favorite tricks: Greek yogurt and evaporated milk. They're much better options in baking than low-fat or non-fat margarine because of the simple ingredients and don't change the flavor.
I used a mini-loaf pan because that was what I had, and the portioning worked out perfectly. Just reheat one at a time and it's like having a freshly baked breakfast. Since low-fat pastries dry out faster, I'd recommend freezing half of the batch and thawing it later in the week(if you think the first batch will last that long).
Low-Fat Chocolate Coconut Loaves
Prep time: 15 minutes
Cook time: 25 minutes
Ingredients(Makes 8 mini-loaves or 1 large loaf):
1 3/4 cups +2 Tablespoons gluten-free all purpose flour(or wheat flour)
3/4 cup sugar
1/2 teaspoon baking soda
1/2 cup chocolate chips
1/2 cup sweetened coconut flakes
1 5oz can fat-free evaporated milk
1 5.3oz vanilla Stonyfield Greek
3 eggs
Method:
Preheat your oven to 350 degrees.
In a large bowl, mix together the flour, sugar, baking soda, chocolate chips, and coconut flakes until well mixed.
Add in the rest of the ingredients and beat until it forms a thick batter.
Grease 8 mini-loaf pans or one large one and pour the batter in.
Bake for 25 minutes or until the loaves rise and the center has set. If you're making one large loaf, wait 40-50 minutes before checking if it's done.
Remove from the oven and let cool before removing from the pan and slicing.