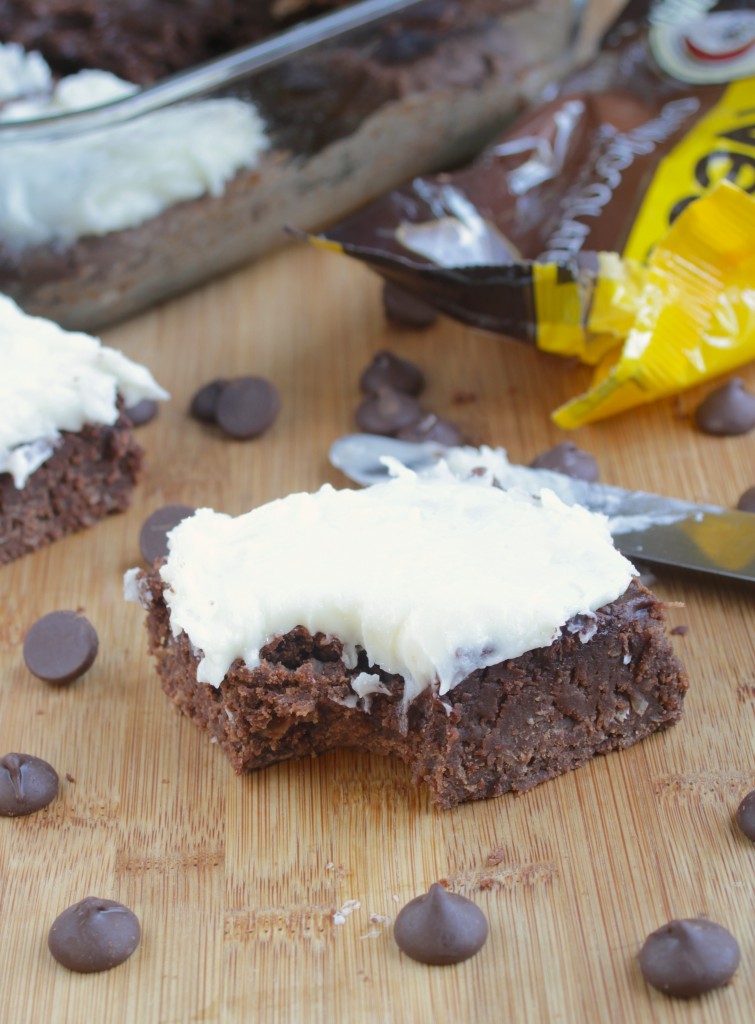 I'll look for excuses to make frosting, and they're not that hard to find.
Cakes are great to make and frost when there's a birthday, a party, or… a birthday party. But when it's the weekend and you just want something sweet and fast for me, myself, and I, frosted brownies are the best way to go. 
My favorite brownie recipes are always on the traditional side. Forget about expensive olive oil and pine nuts; sweetened shredded coconut is in every grocery store and adds just as interesting a flavor and richness. Finish with some good vanilla and you're good to go.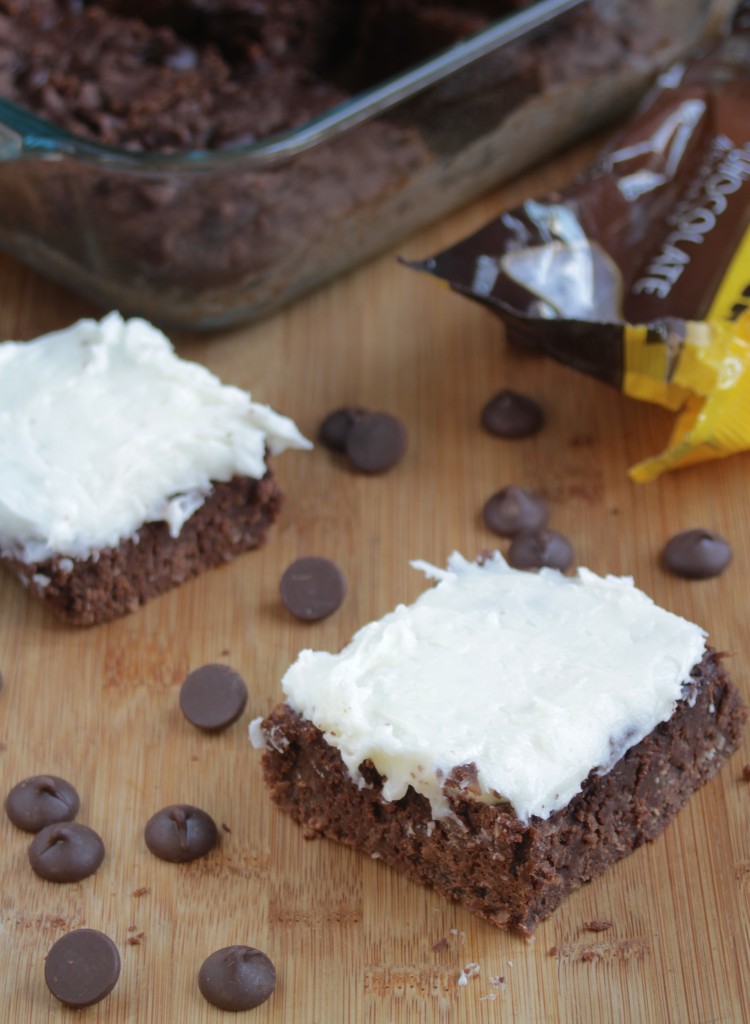 What makes these brownies special besides the shredded coconut and spoon-licking frosting? Absolutely nothing, so if you want to use a quick gluten-free or regular boxed brownie recipe and fancy it up with shredded coconut and this frosting recipe, go right ahead–everyone will be too busy eating to mind.
Gluten-Free Coconut Brownies
Prep time: 15 minutes
Cook time: 30 minutes
Ingredients(Makes 1 8 x 8 pan):
3/4 cup oat flour

1/4 teaspoon salt

2 tablespoons unsweetened cocoa powder

1/2 teaspoon baking powder

1/2 cup sugar

1/2 cup sweetened shredded coconut

2 large eggs

1 teaspoon vanilla

1/2 cup butter

7 oz bittersweet baking chocolate, divided OR 3/4 cup chocolate chips

1/4 cup water
For the frosting
1/2 cup butter, room temperature

2 1/4 cups powdered sugar

1 Tablespoon milk

1/4 cup sweetened shredded coconut
Method:
Preheat your oven to 350 degrees.

Mix together the oat flour, salt, cocoa powder, and baking powder and set aside.

In a separate bowl, melt together 4 ounces of chocolate or a scant 1/2 cup chocolate chips with the butter.

While the chocolate is melting, beat together the eggs, sugar, shredded coconut, vanilla, and water.

Slowly pour the melted chocolate and butter into the egg/sugar mixture while whisking until fully incorporated. Don't go too fast so that the raw eggs don't cook upon contact.

Add the chocolate mixture in with the dry ingredients and mix completely.

Pour the batter in a greased 8 x 8 pan.

Sprinkle the top with the remaining chocolate and gently press it into the batter.

Bake for 30 minutes or until a toothpick poked into the center comes out clean. Let these cool completely before frosting.

With a beater, beat together the butter, sugar, and coconut until smooth.

Spread gently and generously over the pan of brownies.

Slice the brownies into even squares and serve within a couple days of baking.