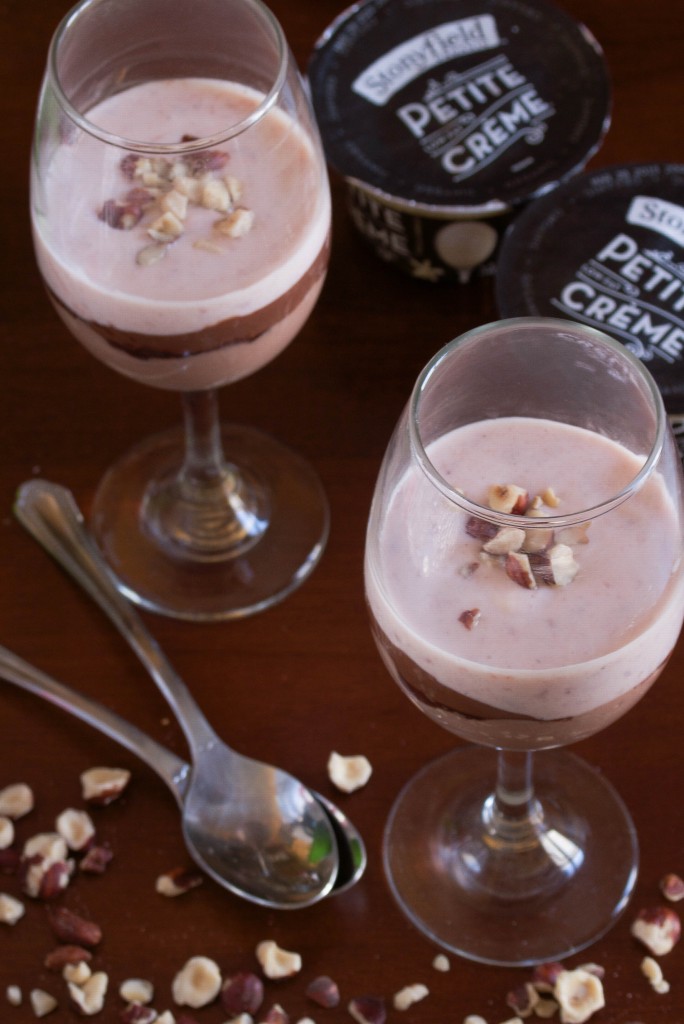 Valentine's Day usually marks the last good dessert you can eat and not feel guilty about during the holiday season before you have to wait another 8 months for Thanksgiving to roll around. You might as well make it a really good one.
Last year I got to go to Stonyfield's launch party for Petite Creme and sample all the flavors served along champagne, puff pastries, and fine wine. There's definitely something special about Petite Creme. It's creamy and elegant in a way most yogurts aren't. Making a faux "mousse" for this parfait with it is definitely a kitchen cheat no one will mind.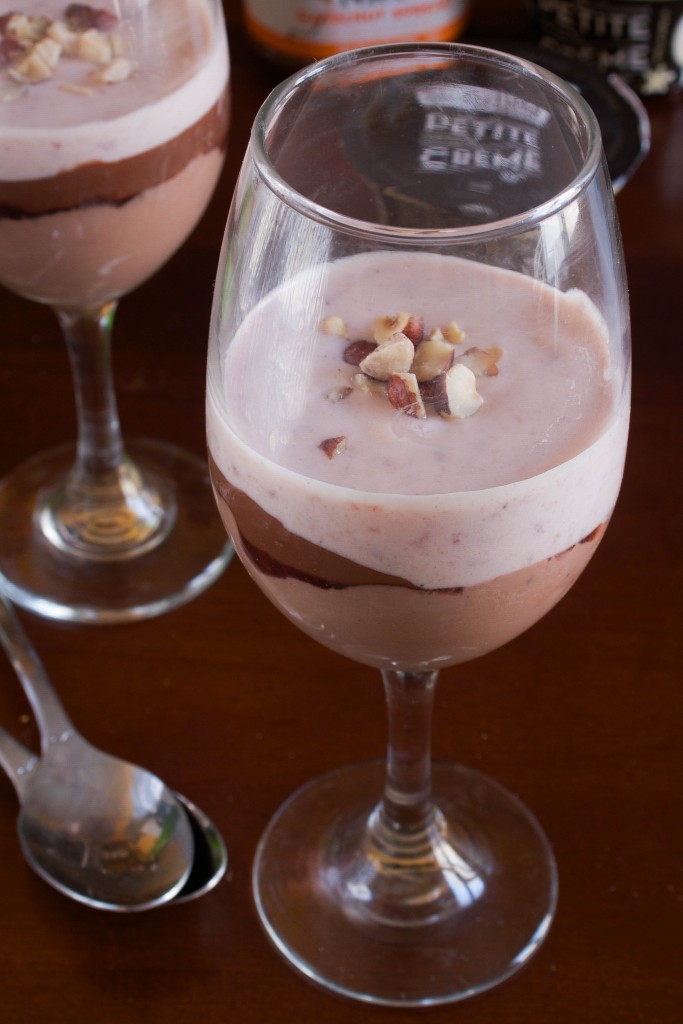 Using the vanilla bean flavor here (my personal favorite) makes the strawberry and Nutella a little more complex in my opinion. Make sure to use a flavorful strawberry jam for the best results. I made this into two servings and it was almost too rich to finish. It's definitely a hefty dessert, so if you're looking for something lighter try splitting this between 4 shot glasses and having taster desserts.
Strawberry Hazelnut Creme Parfaits
Prep time: 15 minutes
Cook time: 0 minutes
Ingredients(Makes 2 large servings or 4 tasters):
2 5.2oz vanilla bean Petite Creme

1/4 cup Nutella 

1/4 cup strawberry jam

2 Tablespoons chopped hazelnuts
Method:
In one bowl, mix together 1 container of vanilla petite creme and 2 Tablespoons Nutella.

In a separate bowl, mix together 1 container of vanilla petite creme and 2 Tablespoons strawberry jam.

Divide the Nutella mousse between 2 to 4 small parfait glasses. Shake gently so that the top is level.
Gently melt the remaining Nutella in a microwave until it's liquid. Pour the liquid Nutella over the Nutella mousse and spread out gently with a spoon in an even layer.
Mix the remaining strawberry jam with enough water (about 2 teaspoons) to make it fluid. Pour gently over the Nutella in the parfaits and spread out lightly with a spoon.
Add 1/2 Tablespoon of chopped hazelnuts on top of each parfait.
Scoop the strawberry mousse gently into the parfait glasses and shake lightly to make level.
Refrigerate the parfaits for 10-15 minutes to cool slightly.
Remove from the refrigerator and garnish with any remaining chopped hazelnuts.