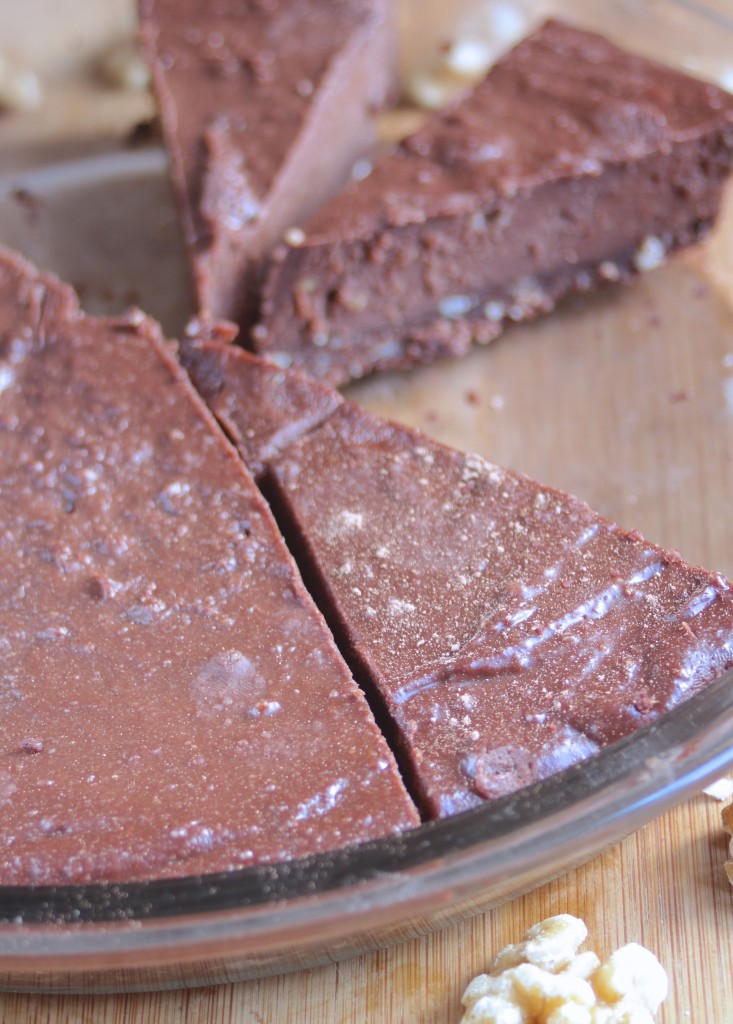 If there's any way to make peace after 2 weeks of not posting it's this recipe.
Spending the weekend with friends or family is great but usually leads to a week without recipes. Last weekend was the exception. My friend Eury visited and stayed with me and insisted(she's going to hate that word–"suggested") we make the raw fudge pie recipe she's been working on.
Whether you're gluten-free or gluten-full, vegan or a meat lover, there's no denying raw desserts are just better than regular ones. They're always fudgier, creamier, more flavorful, and easy to convince yourself they're healthy so you can go back for seconds.
With permission I'm sharing Eury's recipe which'll easily win over the staunchest crowd. The cashew filling has the same taste and texture as any milk chocolate fudge.  If you do not care about the health benefits of eating raw and only make this because raw desserts have amazing flavors and textures, feel free to substitute the maple syrup for honey, corn syrup, or simple syrup. 
Raw Chocolate Fudge Pie
Prep time: 20 minutes
Cook time: 0 minutes
Ingredients(Makes 16 servings):
For the crust:
3/4 cup almonds

1/2 cup walnuts

1/4 cup + 2 Tablespoons unsweetened cocoa powder

3 Tablespoons maple syrup

1 teaspoon vanilla extract
For the filling:
2 cups cashews

1/2 cup maple syrup

1/2 cup water

1/2 cup coconut oil

3/4 cup unsweetened cocoa powder

2 teaspoons vanilla
Method:
Pulse the almonds and walnuts in a food processor until finely chopped.

Add in the syrup, cocoa powder, and vanilla for the crust and continue processing until it forms a mixed dough.

Press the dough into a 9-inch pan until the bottom's about 1/4-inch thick.

For the filling, process the cashews into a fine powder. Make sure not to over blend them into cashew butter.

Add in the maple syrup and water and continue blending until smooth.

Add in the rest of the ingredients and process until it forms a smooth liquid filling.

Pour the filling over the crust and spread into an even layer.

Refrigerate for ~4 hours until the center has set. Cut with a sharp knife into servings. Refrigerate when not enjoying.