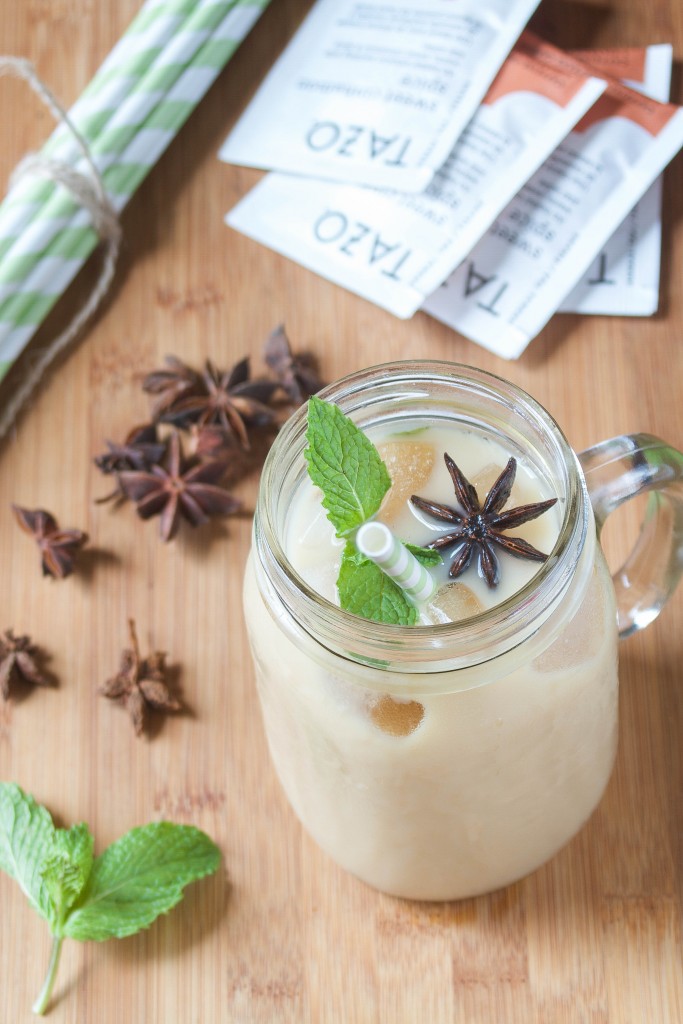 Some of my favorite food in the Summer comes from street festivals. Why go to one restaurant and sit down when you can pick and choose a meal from different carts on a nice Summer day? 
My favorite drink to pick up is a Thai iced tea, which is usually some part tea concentrate, water, ice, and condensed milk. It's almost always too sweet, but that makes me like it even more. I wish it were as easy to find year round as a Starbucks iced coffee but this homemade version is the next best thing.
If you have the foresight, you can make the tea in advance and let it chill in the refrigerator over night and save yourself some ice. I wouldn't have minded adding a little sugar to mine, but keeping it less sweet lets the spices and mint flavors come out. Before adding to the drink, try activating the mint by clapping it between your palms.
Tazo Thai Iced Tea
Prep time: 10 minutes
Cook time: 0 minutes
Ingredients(Makes 2 servings):
1 Tazo sweet cinnamon tea bag

1 Tazo black tea bag(any variety will do)

1 anise clove(plus more for garnish)

10oz boiling water

3 Tablespoons sweetened condensed milk
3 cups ice cubes
Fresh mint
Method:
In a large mug, combine the teas, anise, and 10 ounces of boiling water.

Steep the tea for 5-7 minutes.

Put 1 cup of ice into two cups. Pour 5 ounces of tea over each.

Add 1/2 cup of ice to each cup after 30 seconds when the ice melted.

Add 1 1/2 Tablespoons of sweetened condensed milk to each cup and stir well.

Garnish with activated mint and anise clovers.