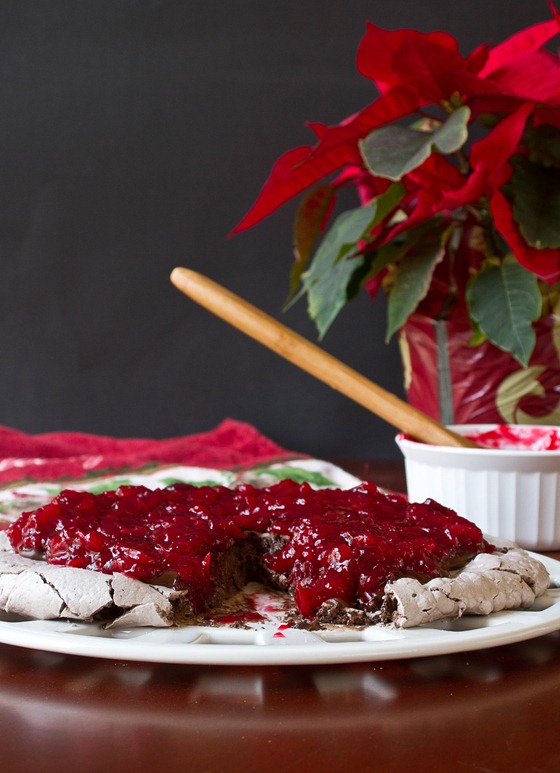 Merry Christmas and happy holidays! Lately it's felt like Christmas is a week and not just a day. This is a dessert I made a couple of days for friends. It was so good I thought about making it again for Christmas Day.
Pavlovas are a light and simple gluten-free dessert. You just need to have enough foresight to make them the night before so that the meringue can set overnight. On their own they don't have much flavor, but add anything on top and they become much more exciting.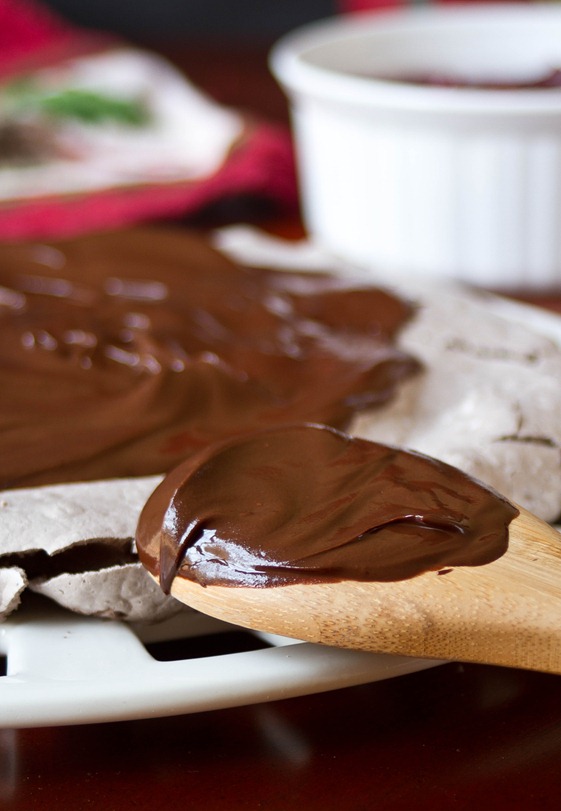 This dessert has a lot of flavors and textures going on in it. The meringue is crunchy on the outside and gooey on the inside. The chocolate is velvety and bitter and the cranberry sauce is slightly chunky and tart. There's a little something for everyone.
Chocolate Cranberry Pavlova
Prep time: 25 minutes
Cook time: 8 hours
Ingredients(Makes about 8 servings)
4 egg whites

2 cups powdered sugar

1/4 cup cocoa powder

1/4 teaspoon cream of tarter

2 cups fresh cranberries

1/2 cup sugar

1/4 teaspoon salt

1 Tablespoon corn starch

6 Tablespoons chocolate chips

3 Tablespoons butter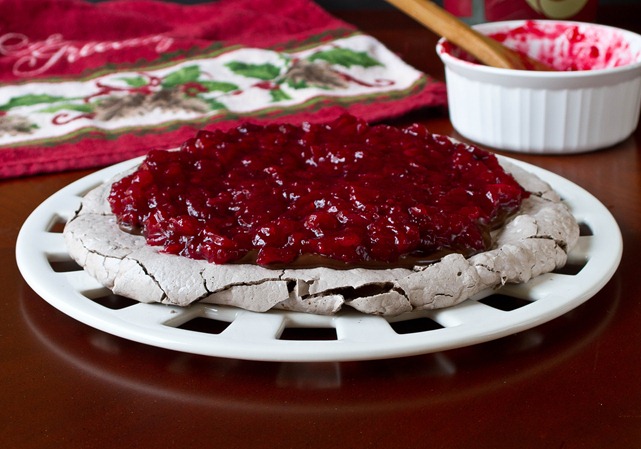 Method:
Preheat your oven to 350 degrees.

Beat the egg whites in a large glass bowl until they're frothy.

In a separate bowl, sift together the powdered sugar, cocoa powder, and cream of tartar.

While beating the egg whites, slowly add in the sugar and cocoa powder mixture until it's fully incorporated. Continue beating until soft peaks form.

Spread the meringue out on a non-stick baking tray. Place the tray in the oven, turn it off and leave the oven door shut overnight or for 8 hours until the meringue has set.

Combine the cranberries and about 2 cups of water in a medium pot over the stove and boil for 10 minutes with a lid on the pot.

After 10 minutes, drain most of the water leaving just a thin layer to cover the bottom.

Add in the sugar and salt and stir. Continue boiling for 2-3 minutes until the sugar is dissolved.

Mix the corn starch with 2 Tablespoons of warm water until it's dissolved and add it to the cranberry sauce.

Remove the cranberry sauce from the heat and mix it well until it thickens. Set aside to cool.

Melt the chocolate and butter in a small bowl and mix together until smooth.

To assemble the pavlova, spread the chocolate out in an even layer on top of the meringue.

Add the cranberry sauce on top of the chocolate and spread it out to cover the top.

Serve at room temperature.