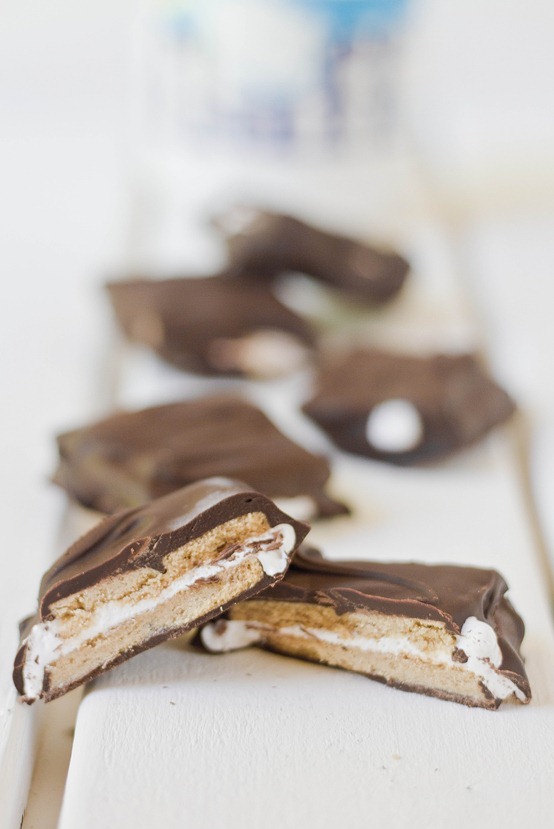 I doubt there's any way you could reinvent s'mores and have it not be delicious. Food bloggers test this theory every Summer and it always holds true. Here's one more delicious s'mores recipe to throw into the mix.
By the beaches in Maine there are candy shops that sell just about everything covered in chocolate. Graham crackers covered in chocolate? Sure. Marshmallows covered in chocolate? Mhmm. But no s'mores covered in chocolate. Why not? Beats me. Thankfully, you don't need to travel farther than your kitchen for something as delicious as this.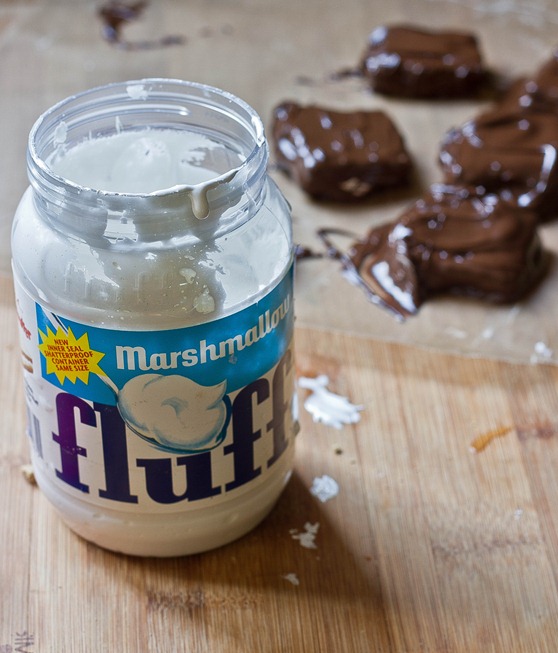 Instead of melted marshmallows which would get stale in a refrigerator, this recipe uses marshmallow crème which is soft at room temperature just like a melted marshmallow. My favorite part about this is that Fluff is a naturally vegetarian marshmallow option, so you don't have to go out and buy a $5 bag of marshmallows to get your s'mores fix.
Chocolate Covered S'mores
Prep time: 15 minutes
Cook time: 0 minutes
Ingredients(Makes 6 squares):
12 graham cracker squares
1/4 cup marshmallow Fluff
6oz chocolate(about 3/4 cup chocolate chips)
Method:
On half of the graham crackers, spread roughly 2 teaspoons of Fluff.
Sandwich each covered graham cracker with an uncovered one and put these aside.
Melt the chocolate in a microwave or over a double boiler until it is smooth and liquid.
One by one, lower the s'mores into the melted chocolate. Flip once and use a utensil to make sure the sides are covered as well as the top and bottom.
Take the s'mores out of the melted chocolate and put it on a non-stick surface to dry. You can quicken the process by moving them to the refrigerator once you're done.
Repeat with all the s'mores.
Store in the refrigerator until ready to eat.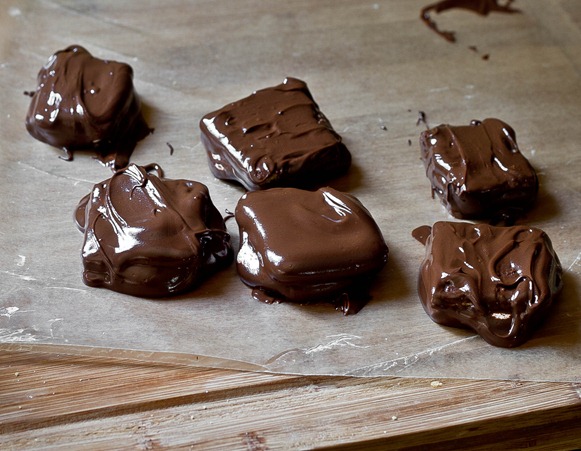 A fun thing to do might be to decorate the outside while the chocolate is melting with graham cracker crumbs and mini-marshmallows. These are the things I think of after I've eaten the whole batch. Shame.