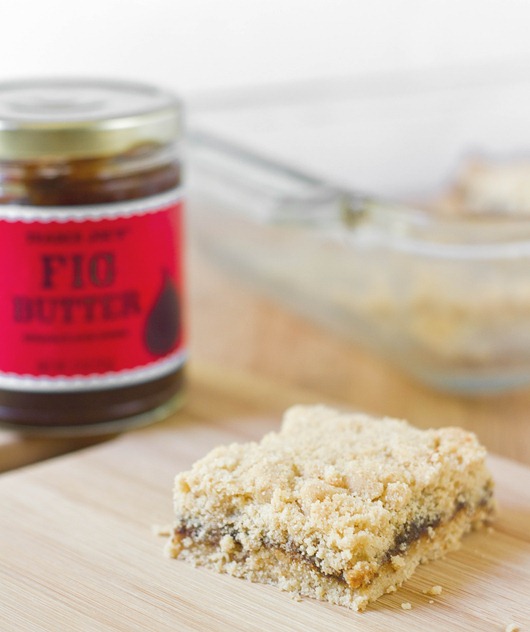 It's amazing how many gluten-free options there are on supermarket shelves these days. Last I checked there are no less than 3 gluten-free "Oreo" knock-offs. Gluten-free pretzels are my newest addiction; they come in plain, chocolate covered, and yogurt covered(still waiting on some savory flavors). But there's one hugely noticeable absence from the options: Gluten-free Fig Newtons.
Fig Newtons used to be as good as cookie gold to me, only topped by those maple cookies shaped like a maple leaf. I went into the kitchen recently determined to come out with gluten-free Fig Newtons… or at least something similar.
It's incredibly hard to get gluten-free dough to be elastic without tons of different flours and gums. Instead, I focused on getting the same flavors in a different form with less special ingredients. These bars have a shortbread crust and a top crumble with strong touches of cinnamon and butter; it's like a portable fig crisp, and there's certainly nothing wrong with that.
Of course you can use any kind of jam to fill these with. Try apple butter for a Fall flavor or mango butter for something more tropical.
Gluten-Free Fig Bars
Prep time: 10 minutes
Cook time: 40 minutes
Ingredients:
6 Tablespoons butter, softened
1 egg
1/2 cup + 2 Tablespoons sugar
1/2 teaspoon cinnamon
1/4 teaspoon salt
1/2 Tablespoon vanilla extract
1/3 cup coconut flour
1 1/2 cups brown rice flour
1/2 cup fig jam or fig puree
Method:
Preheat your oven to 350 degrees.
In a large bowl, cream together the butter, egg, sugar, cinnamon, salt, and vanilla.
Add in the coconut flour and brown rice flour and work the dough until the flours have been mixed in.
Grease an 8 x 8 baking pan.
Press about half of the dough into a 1/2-inch thick layer in the pan. Use more than half of the dough if you have to; just make sure it's thick enough to hold together.
Spread the fig butter into a flat layer on top of the dough.
Crumble the extra dough on top of the layer of fig and press it in lightly.
Bake for 35-40 minutes until the edges begin to brown and the top is golden.
Wait for the bars to cool before cutting in. Store leftovers in a refrigerator.