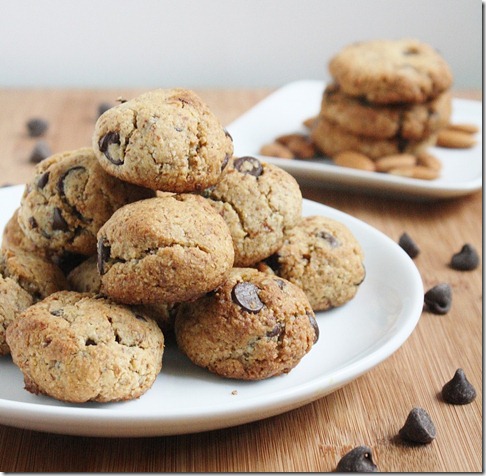 If you're giving out brownies, you might as well give out cookies, too, right? Again, I used one of my favorite recipes for the mix: Almond flour chocolate chip cookies. Since the full recipe didn't fit in a single jar, I scaled the ingredients down a bit; don't worry, though, because it's still the same delicious recipe. These cookies bake more like doughballs and have a really soft, chewy center, which is my idea of a perfect cookie.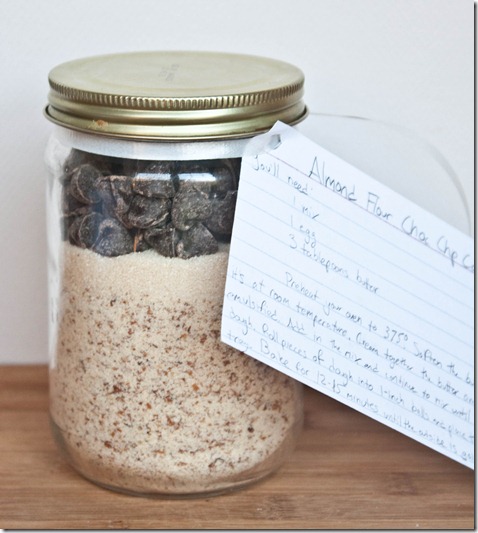 For the mix, you need:
1 18oz mason jar
1 cup plus 2 Tablespoons almond flour
1/2 teaspoon baking powder
1/4 teaspoon salt
1/4 cup sugar
Enough chocolate chips to fill the jar
1 index card
Ribbon to attach the card.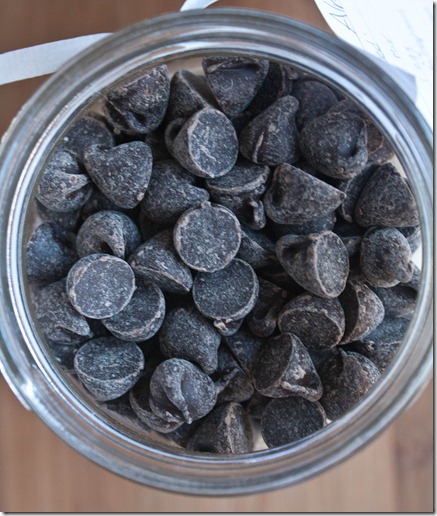 Method:
Clean and dry an 18oz mason jar
Add in layers the almond flour, baking powder, salt, sugar, and chocolate chips.
Write on an index card the following:
"You'll need:
1 mix
1 egg
3 Tablespoons butter

Preheat your oven to 375 degrees. Soften the butter to room temperature and cream it together with the egg. Add in the mix and continue to blend until it forms a dough. Roll pieces of dough into 1-inch balls and place them on a cookie tray. Bake for 12-15 minutes until the outside is golden."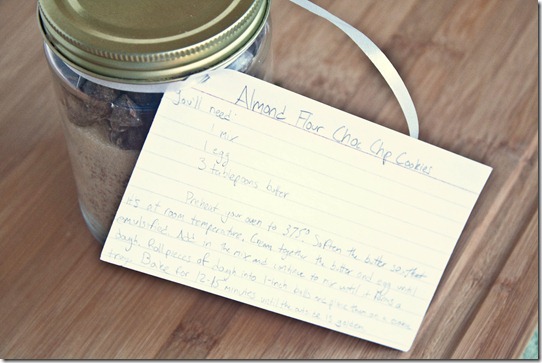 Hopefully between brownies and cookies you'll find something for somebody special.