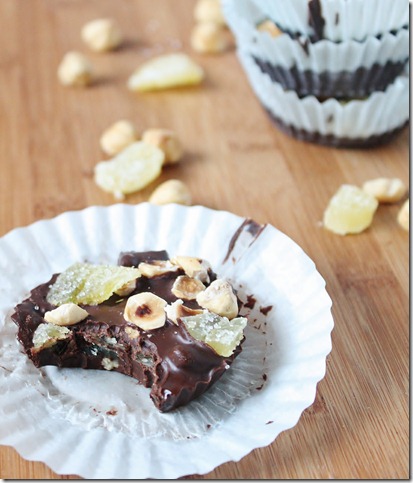 I love this time of year(except for the cold which I will complain about endlessly). The mall smells terrific; there's Christmas music playing every time I walk into CVS; it's socially acceptable again to spend your Saturday nights watching Christmas movies on Netflix(as opposed to when I do this in July); and food blogs post new and exciting dessert recipes every day.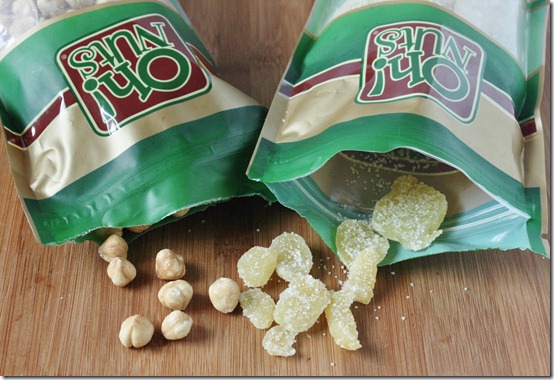 Sam from Oh Nuts! offered to send me two of their products to start my Holiday baking and be entered in a contest. Sounded good to me. I love making and sharing food with friends and family and the holidays are the perfect time to do that. I asked for roasted hazelnuts and candied ginger; both of those are delicious on their own but also pair well with Winter flavors.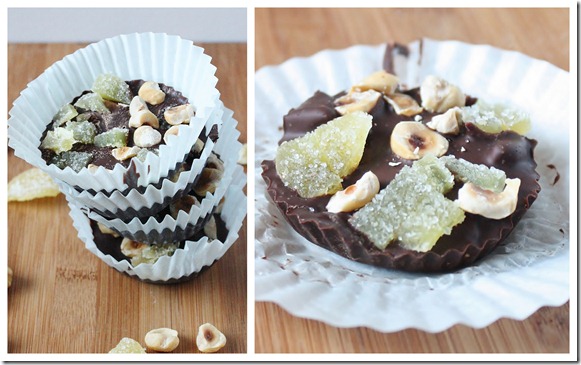 I didn't want to do too much to the hazelnuts and ginger because their taste is so fresh. I decided to make bark since it's an easy and elegant dessert that derives a lot of its flavor from the mix-ins added and the quality of chocolate used(I used Scharffen Berger). I didn't have parchment or wax paper; twitter told me to avoid using aluminum foil, too, so I improvised with cupcake liners. I actually think these worked out really well since the chocolate didn't stick at all and they come out already portioned. You can use these or make traditional bark by laying it out on a flat piece of parchment paper and breaking it into pieces.
Roasted Hazelnut And Candied Ginger Bark
Prep time: 15 minutes
Cook time: 0 minutes(allow 30 minutes to harden)
Ingredients(Makes 12 servings):
12oz 70% good quality baking chocolate OR 1 1/2 cups bitter-sweet chocolate chips

3oz(3/4 cup) roasted hazelnuts(preferably salted), crushed

4.5oz(3/4 cup) candied ginger, diced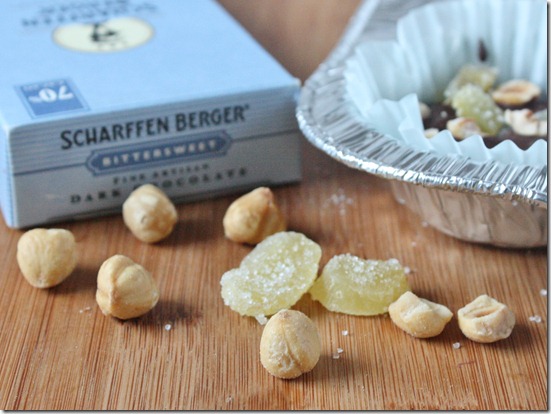 Method:
Fill a dozen cupcake wells with paper liners.

Melt the chocolate either in the microwave or over a double boiler until completely liquid.

Fold 1/2 cups of the hazelnuts and ginger into the melted chocolate until completely mixed.

Spoon the chocolate mixture evenly among the paper liners.

Garnish with the remaining hazelnuts and ginger, pressing them into the melted chocolate lightly to make sure they hold.

Refrigerate the chocolate cups for about 30 minutes until they've hardened. Serve and store at room temperature.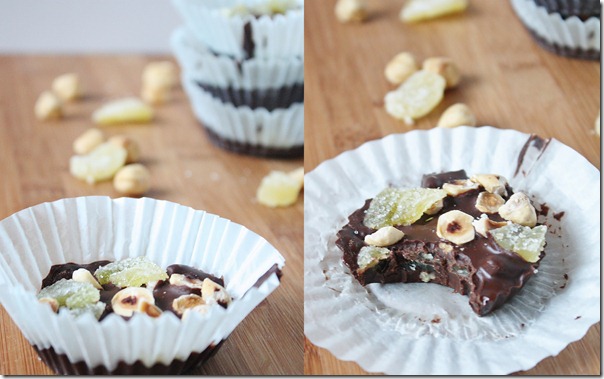 Brian from Twitter remarked that they sounded "fancy". I'd agree and add that this looks and tastes like a gourmet treat from a dessert shop. And yet it's so easy to make! That's why I love bark. No one needs to know you didn't candy the ginger yourself or roast your own hazelnuts.
As for the dessert itself, I loved how the chewy ginger contrasted with the nutty hazelnuts. The chocolate after it melted and hardened wasn't quite solid but wasn't messy, either; it was very smooth soft, highlighting the taste and texture of the mix-ins.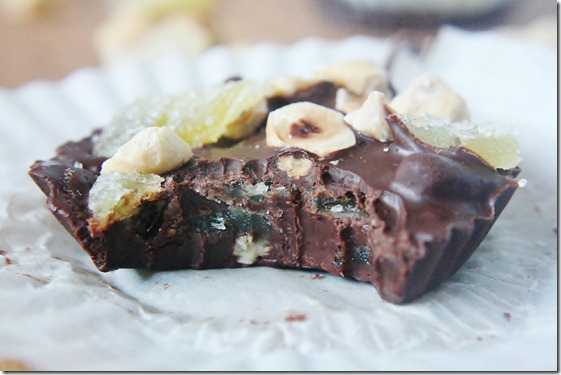 Happy Holidays