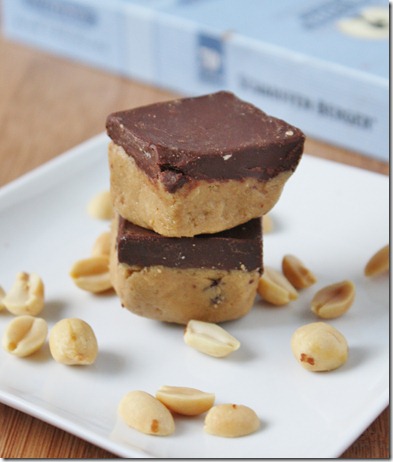 I'm sorry that the name for this recipe is such a mouthful that you'll probably finish half the batch before you say it. More accurately I'd call these "White Chocolate Peanut Butter Graham Cracker Bars With Dark Chocolate Ganache" but with a name like that you'd have to come up for air at some point.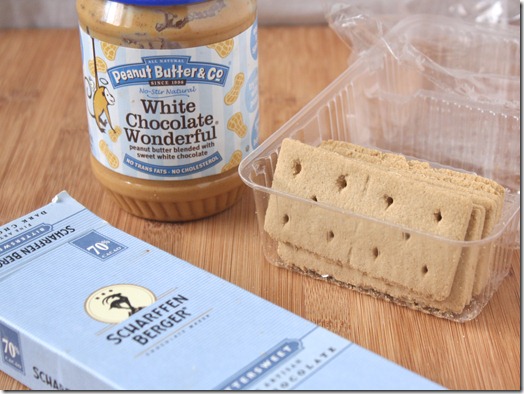 This recipe is made with a few of my favorite things. PB&Co.'s White Chocolate Wonderful is one of the best vegan "white chocolate" anything I've ever had. It actually tastes like white chocolate without any dairy. For the ganache, I used Scharffen Berger's 70% baking chocolate, which is delicious and smooth to eat both on its own and in recipes. You can taste the quality in it and—I warn you—it's addicting stuff.
Normally, when I make peanut butter bars I use this recipe which is naturally gluten-free. However I've seen a lot of peanut butter bar recipes that use graham crackers as a binding(most recently this one) and I figured if so many people are doing it there must be something to it, right? So I broke out the ol' gluten-free graham crackers and got cooking. I didn't expect to like these as much as I do. The earthy spices in the graham crackers pair really well with the sweet and nutty peanut butter and add a pleasantly crunchy texture.
Graham Cracker Peanut Butter Bars With Dark Chocolate Ganache
Prep time: 15 minutes
Cook time: 0 minutes
Ingredients(Makes 18 1-inch squares):
*You can use any peanut butter so long as it's the no-stir kind. If you want the white chocolate flavor but don't have White Chocolate Wonderful, use 1/2 cup of natural peanut butter mixed with 3 Tablespoons melted white chocolate.
**This is easy to make at home. Simply pulse 9 sheets of graham crackers in a food processor until it makes a smooth flour.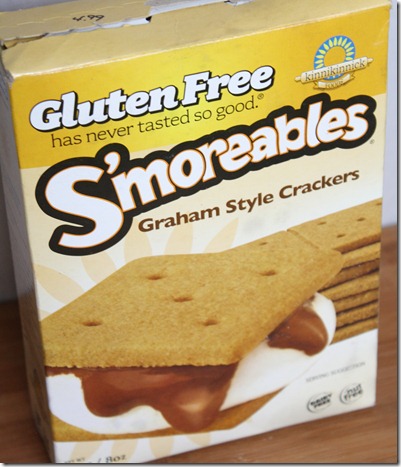 Method:
Gently melt the butter and 1/2 cup peanut butter either in the microwave or over the stove until it's smooth and liquid.
Once the ingredients are melted, sift in the powdered sugar and pour in the graham cracker crumbs and mix it together until emulsified.
Grease a 3×8 loaf pan and press the peanut butter mixture into the pan in an even layer.
In the microwave or over the stove, melt together the remaining 2 Tablespoons of peanut butter and chocolate. Once they're melted, mix them together.
Pour the ganache over the peanut butter layer and refrigerate until hardened(at least 30 minutes).
10 minutes before serving, remove these from the refrigerator to soften. Once soft, gently cut into 1-inch squares with a sharp knife and serve. Leftovers can be stored in the refrigerator for up to a week.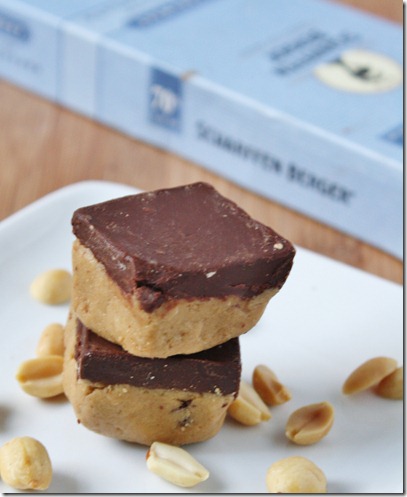 One of my favorite things about recipes like these is that they're so easily adaptable for different allergens. I made mine gluten-free simply by using gluten-free graham crackers. To make them vegan you can use a dairy-free margarine in place of the butter and make sure to use vegan graham crackers.