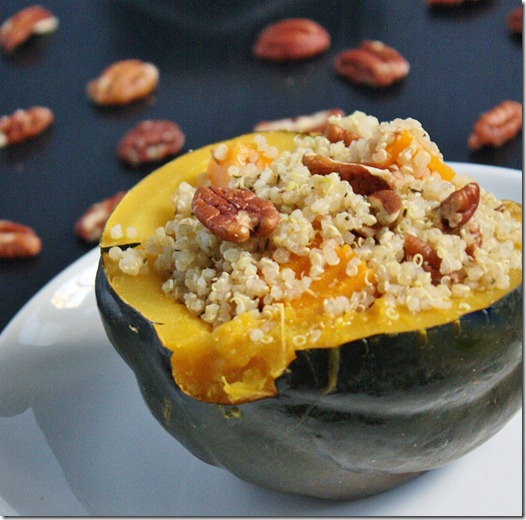 Over the weekend I saw two recipes for quinoa pecan stuffing that caught my eye. I loved the presentation and photos from this recipe on For The Love Of Food(just try looking at it and not getting hungry). And I loved the addition of butternut squash and pecans in this recipe from The Cooking Channel, but I didn't love the choice of seasoning. Instead I worked from both recipes, picking what I think is the best of both and making a different quinoa stuffing.
Is it the best I ever had? Not really. But it's the best I ever had that cooks up in 20 minutes in one pot. If I made this again I'd sauté some onions and celery and perhaps mushrooms like one of the original recipe has to develop the flavor a little more.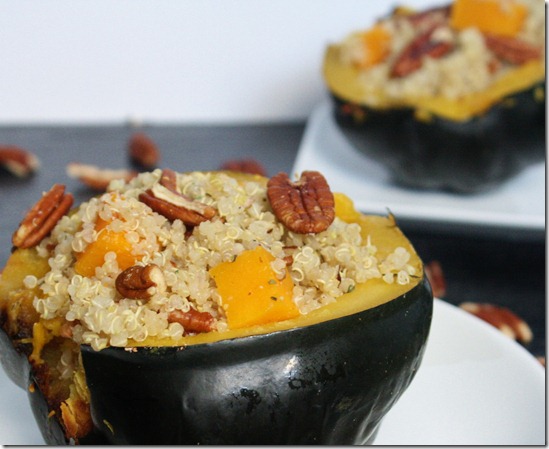 Quinoa Pecan Stuffing With Butternut Squash
Prep time: 5 minutes
Cook time: 20 minutes
Ingredients(Makes 4 servings):
1 cup quinoa, washed and drained

2 cups chicken or vegetable broth*

1 cup cooked and diced butternut squash

3/4 teaspoon savory herbs like thyme and rosemary

1/2 teaspoon salt

1/2 cup crushed pecans plus more for garnish
*Since there's very few seasonings in this recipe, using broth and not water is important to add deep flavor.
Method:
Bring the quinoa and broth to a boil over the stove. Cover the pot and turn off the heat, letting the quinoa absorb the liquid for 15 minutes until it's fully cooked.

Add in the diced squash, herbs, salt, and pecans and mix those in while fluffing the quinoa.

Serve hot and garnish with extra pecans if desired.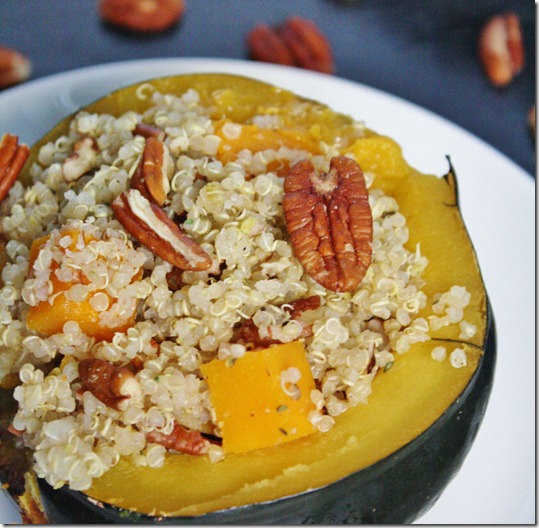 I was worried using so few ingredients the recipe wouldn't hold up to either of the originals, but the broth adds a ton of flavor(I used Rapunzel's vegan bullion cubes in case you're wondering). A fun variation on this would be substituting cubed sweet potatoes in for the butternut squash.