Happy Halloween! I love Halloween; it's hard not to love a holiday that encourages dressing up and accepting candy from strangers. But since you can't really make a meal out of candy corn and Reese's(well, you can, and that would be my idea of heaven, but I won't) I was cooking a lot through the relaxing weekend including these potatoes I had to use up.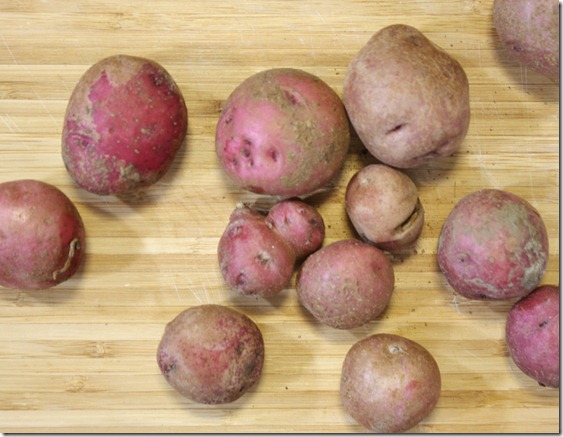 I picked up red potatoes from my farmers' market. After having them baked plain one night, I remembered I really wasn't a fan of red potatoes. They don't seem as starchy as other varieties, and if I'm having a potato I'm looking for that warm, starchy comfort food.
Since I had almost a pound to use up, I knew I'd need to find a way to make them taste irresistible. This method of soaking + roasting with garlic makes the potatoes soft, crispy, and full of flavor. Red potatoes still aren't my favorite, but this recipe makes me like them a whole lot more.
The Best Red Potatoes
Prep time: 30 minutes
Cook time: 45 minutes
Ingredients:
1lb red potatoes
2 Tablespoons olive oil
5 cloves garlic, sliced thinly
3/4 teaspoon salt
Diced chives(optional)
Method:
Wash the red potatoes thoroughly but keep the skin on.
Cut the potatoes into halves or quarters depending how big they are into bite-sized wedges.
Soak the wedges in hot water for 20-30 minutes
Preheat your oven to 350 degrees.
Drain the potatoes from the water but don't dry them. Toss with the olive oil, garlic, and salt until evenly covered.
Lay the potatoes out on a roasting tray and roast for 45 minutes or until the potatoes have started to brown and wrinkle.
Remove from the oven and serve hot. Garnish with chives if desired.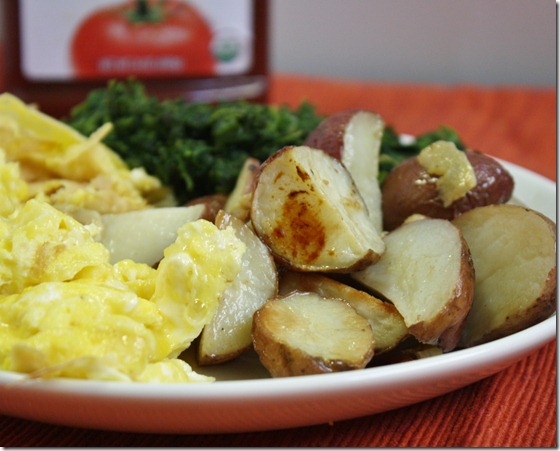 Most of the garlic burns by the time the potatoes are ready. You can pick them out and discard them; by now the garlic flavor has totally soaked in. I'll admit: It's a lot of garlic. If you have plans to be in public later or dress up like a vampire, you may want to save this for another time.
Luckily I wasn't a vampire. Who was I? Ron Swanson.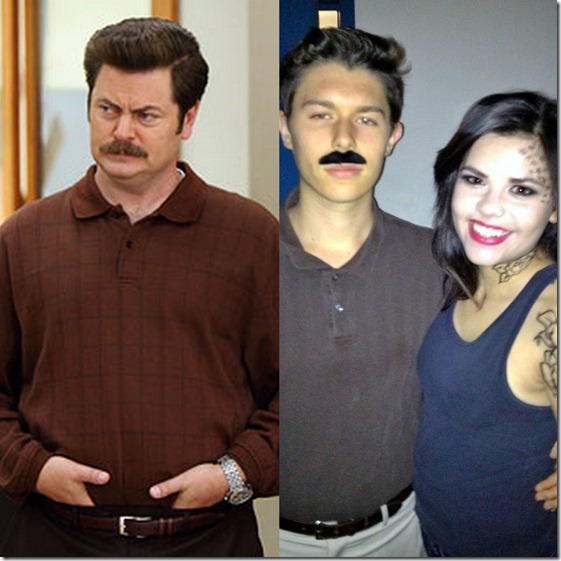 This may be hard to believe, but that's not my actual facial hair(I know—absorb the shock). And now I have 10 extra fake mustaches to wear whenever I feel like it. Cool beans. I also like to think Ron Swanson would enjoy these potatoes, even if he wouldn't care at all how they're made and insist on eating them with all the bacon and eggs he has.
What were you/will you be for Halloween?