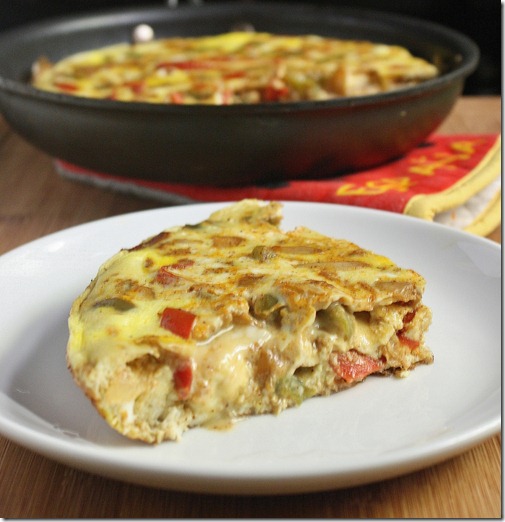 My weekly schedule is a little funny. Tuesday and Thursday are always go-go-go and I hardly have time to sit down and eat let alone cook. But on Wednesday I have all the time in the world if I work enough over the weekend to take my time and lounge around. This Wednesday I realized I didn't have very much food to get me through the next couple of days, so what did I do? Cook. A lot.
On top of lunch and dinner, I roasted a spaghetti squash, acorn squash, and used up a dozen eggs in this frittata. My 3-foot fridge might have been bursting open with squash that night, but it's made my next couple days a breeze. I ate 3 servings of this frittata yesterday and still wanted more after dinner. I can tell I'll be making another again soon.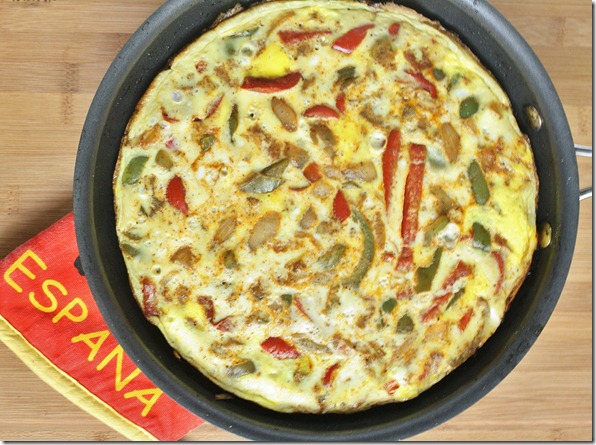 If you don't feel like cutting the peppers and onion yourself, check in the frozen section of your grocery store for something called a "southwestern vegetable blend" and substitute the vegetables here for 1 cup of the vegetable blend.
Southwestern Stovetop Frittata
Prep time: 15 minutes
Cook time: 10 minutes
Ingredients(Makes 4 servings):
12 medium eggs

1 red bell pepper, julienned

1 green bell pepper, julienned

1 yellow onion, diced

1 Tablespoon oil

1/4 teaspoon chili powder

1/4 teaspoon cayenne pepper

1/4 teaspoon cumin

1/4 teaspoon garlic powder

1/2 teaspoon salt

1/2 cup shredded Mexican blend or cheddar cheese(optional)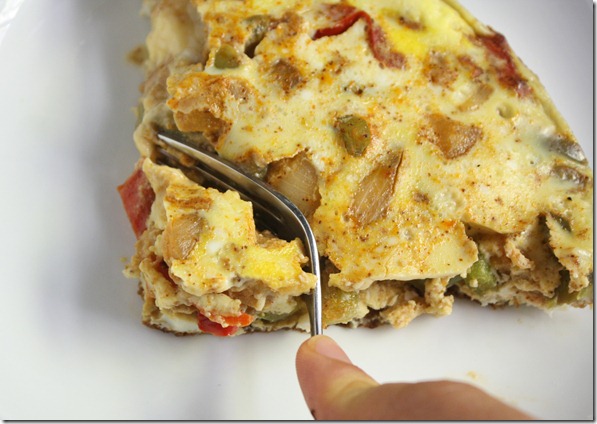 Method:
Heat the oil in an 8' non-stick pan with a fitting lid over medium heat.
Add in the peppers, onion, spices and salt and sauté until the onion is translucent. Make sure to mix the ingredients to evenly distribute the spices.
In a large bowl, crack and beat all of the eggs.
Remove the onion and peppers from the pan and pour in the beaten eggs(if you're using a pan that's not non-stick, it's a good idea to add a little oil to the bottom before doing this).
Wait 10 seconds and then distribute the onion and peppers and cheese if using into the egg batter.
Put a lid on the pan and leave untouched for 10 minutes until the egg has cooked through. You'll be able to tell it's done when the egg in the center has set.
Remove from the pan and cut into quarters. Serve hot.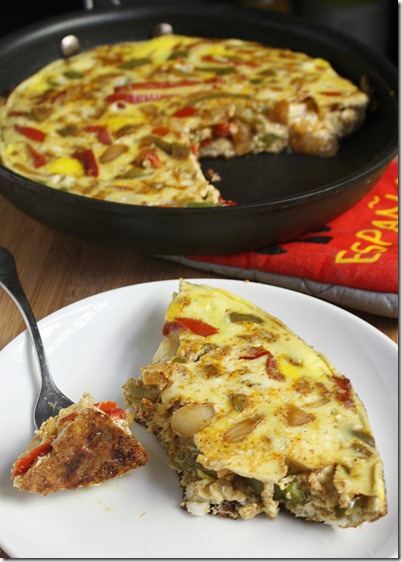 Next time I try this I think I'll add some cheddar-style Daiya, because if it's that good without cheese it can only be better with.