The last time I posted was 5 days ago. There's a reason for my absence. I spent all week in Philadelphia at the Healthy Living Summit living it up with some great friends. I learned and did so many things in Philly that I can't wait to share. But not yet. I got home late last night and my head(and bedroom floor) are currently a mess.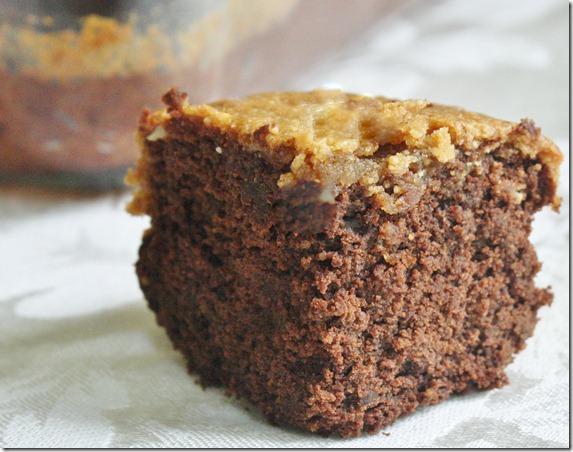 One thing I can share is this brownie recipe. Like the almond flour brownie recipe, I baked these and packed them up to bring to Philly and share with bloggers. Most of all I was excited to share these with Cynthia, who also has food allergies(gluten, soy, almond, hazelnut, refined sugar, and dairy). I didn't have a recipe that avoided all of those allergens, so I made one up and said a little prayer. At first I worried they came out too cakey for my preference, but one taste and I was sold. The only question remaining was how would other people like them.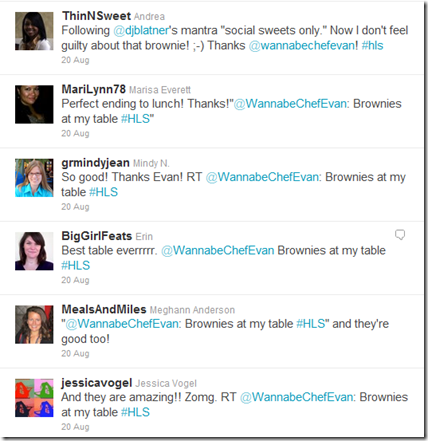 The response to these was overwhelming. As soon as I tweeted out, the brownies started selling like hotcakes(but way better because they're brownies, duh). Cynthia really enjoyed them, as did Meghann, Julie, and too many other bloggers to count. I don't care how good food tastes; nothing feels as good as sharing it with others.
If you're baking for someone with a peanut or tree nut allergy, sunflower seed butter makes a great substitute for peanut butter.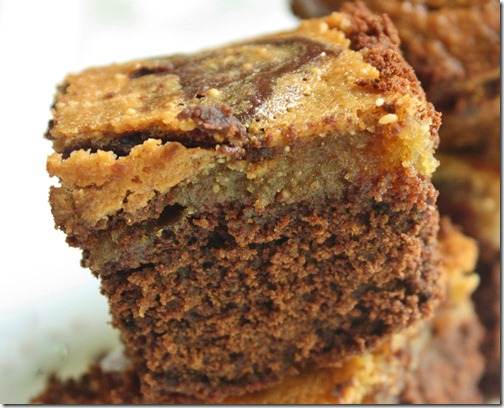 Chocolate Peanut Butter Swirl Brownies
Prep Time: 20 minutes
Cook Time: 40 minutes
Ingredients(makes 16 brownies):
4.5oz unsweetened baking chocolate(I used Scharffen Berger because it's soy-free)
1 3/4 cups maple syrup, divided
1 cup unsweetened peanut butter, divided
1/4 teaspoon baking powder
1/8 teaspoon salt
1 cup all-purpose flour(I used Bob's Red Mill gluten-free all purpose flour)
1/4 cup cocoa powder
3 eggs
1/3 cup water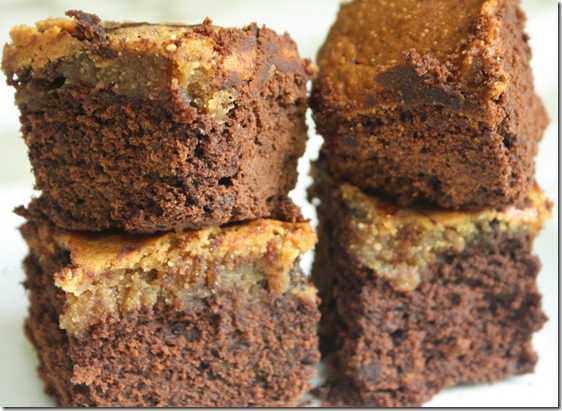 Method:
Preheat your oven to 350 degrees.
Melt the chocolate and whisk in 1 1/4 cup maple syrup and 1/2 cup peanut butter. Set aside.
In a large bowl, sift together the baking powder, salt, flour, and cocoa powder. Whisk in 2 eggs and 1/3 cup of water.
Mix the chocolate-peanut butter mixture into flour and eggs until completely combines. Pour this into a greased 8×8 baking pan. If the batter is too thick to pour, add extra water until it's runny but still thick.
Make the peanut butter part by whisking together the remaining maple syrup, peanut butter, and egg.
Pour the peanut butter mixture on top of the brownies and lightly swirl the two batters together a couple times, making sure not to over mix them.
Bake for 40 minutes or until a cake tester inserted in the center comes out clean.
Cool completely before cutting.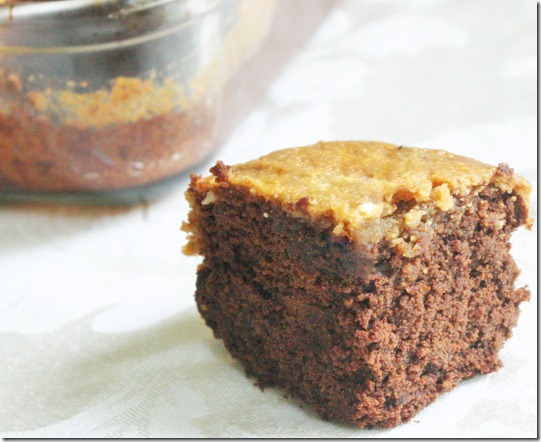 Make sure to share these after making them. That way they'll taste all the better.