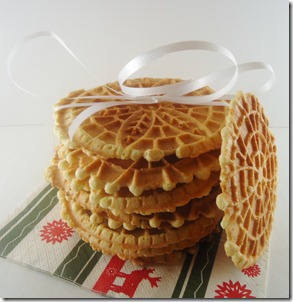 2 years ago one of the gifts I asked for for Christmas was a pizzelle maker. If you aren't from an Italian family, you might not even know what a pizzelle is: A pizzelle is a thin, wafer-like cookie often flavored with lemon or anise with a snowflake pattern. It's a traditional Italian cookie and one of my family's favorites. To cook them, you need a special iron. These used to be made out of iron and you'd hold them over a hot flame but now Cuisinart makes a great electric press. This year was my first time making them gluten-free and with a few changes to the original recipe they came out fantastic! I'm happy I can still enjoy these traditional treats even under some untraditional circumstances.
Gluten-Free Pizzelles
3 eggs
1/4 cup oil
2 teaspoons anise extract
3/4 cup sugar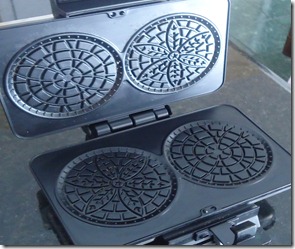 In a large bowl, Sift together your flour and sugar. Add in the oil and anise and whisk. Continue whisking as you beat in the eggs and the dough has come together.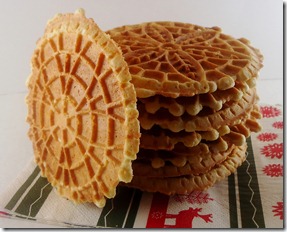 Heat a standard pizzelle maker until it's ready. Take about a 1-inch round scoop of dough and put it in the center of the press. Close the lid and cook about 3 to 4 minutes until both sides have browned. Remove the cookies to a plate to cool.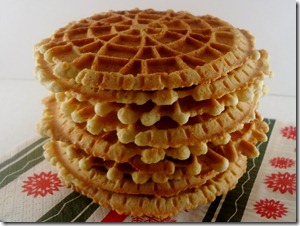 As any Italian grandmother will tell you(well, not my Italian grandmother. My Italian grandmother would rather have a Little Debbie snack cake), there's no real "science" to cooking pizzelles. You add as much dough looks right and cook until they don't need to be cooked any more. The more you make these, the better you'll get at judging the right amounts and cooking times.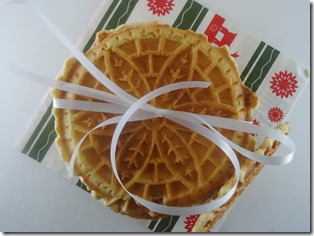 These are a great homemade gift to anyone who likes a cookie. They're flavorful and festive and perfect with a cup of tea at the end of the night.