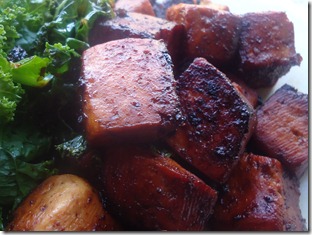 They say you need to eat a food 12 times before you learn to like it. I'm not quite sure how true that is, because last time I checked people don't need that much convincing to like chocolate or peanut butter. But tofu is something I'm still learning to like, even after years of eating it. It can either taste delicious or fake depending on how it's cooked. This is a great recipe because it's flavorful and can be made in about 10 minutes with no pressing involved. This is one recipe that has helped me learn to love tofu.
Sweet And Spicy Tofu With Steamed Kale
Ingredients:
1 block of firm or extra-firm tofu, cubed

2-3 tablespoons sesame oil

2 tablespoons honey

1 1/2 tablespoons soy sauce

1/4 teaspoon chili powder

1/2 tablespoon white vinegar

a pinch of salt

1 bunch of kale, washed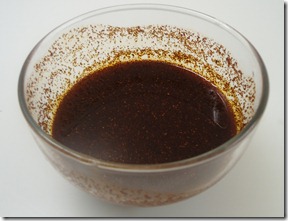 Start by making your sauce. Whisk together honey, soy sauce, vinegar, salt, and chili powder until it has emulsified.
Heat a pan over medium heat with enough sesame oil to cover the bottom. Once the pan has become hot, add in your tofu and cook for about 5 minutes until the outside starts browning and the tofu is heated through.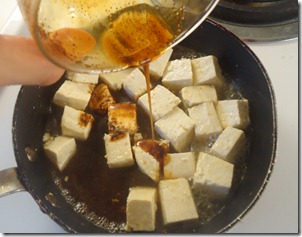 Pour in your sauce and mix the pan to coat the tofu. Continue cooking while the sauce boils down and thickens. As it cooks, the tofu should absorb the liquid and become a golden brown color. It will be done when all the sauce is absorbed.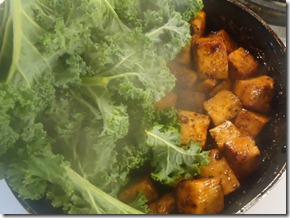 You can either steam your kale on the side, in the microwave, or(like I did), add it on top of the pan in the last few minutes of cooking. Steam it until it has reduced to about half its original volume.
Serve hot and season with salt and pepper.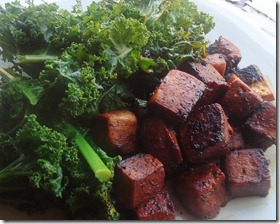 What about you? Tofu lover or hater? Any way in particular you like it?