For the first time so far this year that I can remember I've been sick. Of course it has to happen right at finals time; how could it not? Well, I've been pushing through to finish strong(the semester that is) while my trash basket looks like graveyard for tissues and paper towels(because that's what I used after I ran out of tissues).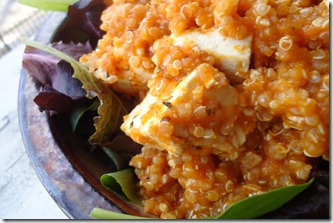 I've had more time to cook this week than ever but no desire to make anything other than pumpkin quinoa stuffing. What is better sick day comfort food than steaming hot carbs? The first time I made it, I mixed in some tofu for protein and put it over greens and called it lunch. It was nice not to have to do anything more than push the start button on my rice cooker.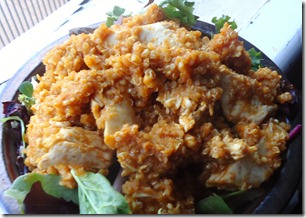 The very next day, I made the exact same thing, except with leftover chicken. Isn't that exciting? I also used cinnamon as the spice instead of Herbes de Provence because I was reading on Twitter that cinnamon does everything from slowing down carbohydrate digestion to boosting your immune system. If I have to eat a pan of maple cinnamon blondies to get better, so be it.
What do you like to eat when you're sick? I could clearly use ideas. Otherwise I'm just going to turn into a pumpkin.